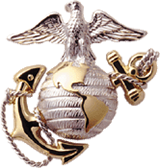 Incident Date 19840108 HMM-261 CH-46E BuNo unknown - Marine killed during ambush exiting helicopter
[PASSENGERS]
Gargano, Edward John Sgt Passenger HMM-261 2/8/WeaponsCo/2ndMarDiv 1984-01-08

---
GARGANO, EDWARD JOHN : USMC : SGT (PP) : E-5 : 620505 : 840108 : LOWELL : MA : KIA : HOSTILE FIRE, AMBUSH, EXITING CH-46 : U.S. EMBASSY LZ, BEIRUT, LEBANON : 2/8/WeaponsCo was attached to 2/8/F of the 22nd Marine Amphibious Unit in Beirut, Lebanon
---
Personal Narrative
That Marine was my good friend and Marine brother, Edward Gargano from Lowell Mass. You see, that day he saved my life. Being a Lance Corporal, I was sent on every work detail that the Corps had in the Root. Just a day before I was sent to the embassy to fill sandbags, I always hated the LZ there. It was a concrete playground with fencing on all three sides, the only side open was to the street. Eddie being the great Marine NCO he was knew I was dead tired and volunteered to take my place. As Eddie got into the helo, I saw he was in the same spot on the stick where I would have been. Later on that day I found out Eddie had been killed, this was one of the worst days in my life. Years later I spoke with Tom Gorham who related this to me, as I had always heard second hand stories it was good to get it from Tom. Eddie was one of the last to exit the helo as they were ambushed by automatic gun fire from the street. Eddie took a round under his arm pit and into his chest. Eddie lay there gasping for air. PFC Tom Gorham moved to assist Eddie, he moved from side to side narrowly missing getting hit by the intense gunfire coming from all directions. He reached Eddie as the helo took off. Gorham fireman carried Eddie to safety and he was flown to the Guam where he died.

PFC Tom Gorham received the Bronze Star with Combat V. There is more to the story but it is intensely personal and remains with me always. Ther are many many stories of valor, commitment, and courage from Beirut, and I only wish I could shout it from the roof so everyone could hear it.

As the 25th Remembrance is upon us, I hope all Marines, Present and Former will pause if only for a moment to remember.

Never Forget, Our first duty is to Remember

Edward Gargano 2/8 Weapons Company Squadron was HMM 261 I think 22 Mau

www.beirutveterans.org
www.usmcdragonfire.homestead.com
Semper Fi
Submitted by:
Cliff Walling, attached to 2/8/WeaponsCo, 20080828
---
Naval Institute Report
1983:
12 September: 31st MAU arrived off Lebanon, assumed standby role.
16 September: Destroyer USS John Rodgers (DD-983) and frigate USS Bowen responded with 5-inch gunfire into Syrian-controlled parts of Lebanon, after continued shelling near the residence of the U.S. ambassador.
19 September: USS John Rodgers and USS Virginia (CGN-38) fire 338 five-inch rounds to help Lebanese Army troops retain hold on strategic Shouf Mountains village of Suq al Gharb. American role shifted from "presence" to direct support of Lebanese Armed Forces, in perception of rebel factions.
20 September: Residence of U.S. ambassador was shelled; USS John Rodgers and USS Virginia responded.
21 September: USS John Rodgers and USS Arthur Radford (DD-968) responded to shelling of Marines at Beirut International Airport.
23 September: Indirect fire attack on Marine positions countered by 155mm artillery fire and five-inch gunfire from USS Virginia.
24 September: USS New Jersey arrived off Lebanese coast following high-speed transit from duty off Central America.
26 September: Cease-fire went into effect at 0600. Announced by Saudi Arabian and Syrian officials in Damascus, supported by Druze. Talks begin on formation of new coalition government for Lebanon. Marine casualties to date: five killed, 49 wounded.
23 October: Suicide truck loaded with equivalent of 12,000 pounds of explosives destroyed headquarters building of BLT 1/8 at Beirut International Airport. Almost simultaneous suicide attack destroyed building occupied by French paratroopers. U.S. casualties: 241 killed, 70 wounded. French casualties: 58 killed. Marine replacement airlifts, via 13 C-141 aircraft, begin the same day.

1984:
8 January: A Marine is killed by unidentified assailants as he exits a helicopter at a landing zone on the edge of downtown Beirut. The helicopter flew to safety, after returning fire with its machine guns.
13 January: Marines in the Beirut International Airport area fought a 30-minute battle with gunmen firing from a building east of their perimeter.
15 January: Druze gunners closed Beirut International Airport for three hours with intense 23mm fire on Marine positions east and southeast of the airport. U.S. forces responded with small arms fire, mortars, rockets, tank fire, and naval gunfire from the battleship USS New Jersey and destroyer USS Tattnall. No U.S. casualties.
Submitted by:
Wally Beddoe, Webmaster, Popasmoke, 20080825
---
Excerpt from Dragonfire Website
Edward John Gargano was born on 5 May 1962 in Quincy, Mass. While serving with the 22nd Marine Amphibious Unit with Weapons Co. 2/8 "Dragons" attached to Fox Co. in Beirut Lebanon, Ed was struck down in an ambush as he stepped from a helicopter near the US Embassy in Beirut. Sgt Gargano was the 258th Marine to die as part of the Multi- National Peacekeeping Force in Lebanon, and the first to die in the New Year . 8 Jan 1984
http://usmcdragonfire.homestead.com/index1.html
Submitted by:
Alan H Barbour, Historian, USMC Combat Helicopter Association, 20080828
---
SGT EDWARD JOHN GARGANO, USMC
Submitted by:
N/A, 20080828
---