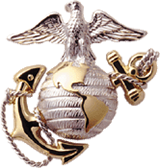 Incident Date 19970510 HMM-164 CH-46E - BuNo 157694 [YT-164] - - Overwater training from shipboard - struck ships antenna on departure - USS JUNEAU
[CREW]
Guajardo, Rodolfo NMN LCpl Crew HMM-164 13thMEU, El Toro, CA 1997-05-10
Tsoris, Michael J Cpl Crew Chief HMM-164 13thMEU, El Toro, CA 1997-05-10
Barnes, Paul D Capt Co-Pilot HMM-164 13thMEU, El Toro, CA 1997-05-10
Dogs, Dennis NMN Major Pilot HMM-164 13thMEU, El Toro, CA 1997-05-10

---
GUAJARDO : 21 : BEACH PARK : IL
TSORIS : 21 : RACINE : WI
BARNES : 27 : LAWRENCEBURG : KY
DOGS : 34 : MISSION VIEJO : CA
---
Los Angeles Times Report
Marines Identify 4 Who Died in Helicopter Crash

The pilot of a Marine Corps helicopter that crashed during a training exercise off Oceanside last weekend, killing all four crewmen, was identified Monday as Maj. Dennis Dogs, 34, of Mission Viejo.

The search for Dogs and three other Marines from El Toro Marine Corps Air Station was called off late Sunday after an extensive sea search exhausted "all possible means of finding survivors," Staff Sgt. Glenn Holloway said Monday.

Searchers recovered some debris and a portion of the fuselage from the CH-46 Sea Knight helicopter, a 45-foot, double-engine aircraft that is among the oldest in the U.S. military, but Holloway said there was no sign of the crew.

The airmen had taken off from the San Diego-based ship Juneau about 9:30 p.m. Saturday, moments before the crash, investigators said.

"One pilot, a co-pilot and two crew members were on board," Holloway said. "What we know is that they had just left the Juneau. The particulars of the incident we don't know yet."

The others presumed dead in the crash are Capt. Paul D. Barnes, 27, of Lawrenceburg, Ky.; Cpl. Michael J. Tsoris, 21, of Racine, Wis.; and Lance Cpl. Rodolfo Guajardo, 21, of Beach Park, Ill.

Dogs graduated from the University of Wisconsin and had been in ROTC, relatives said. Shirley Dogs, an aunt in Wisconsin, said, "About the best way to describe him is that he was an exceptional young man."

Dogs' father, who lives in the family's hometown in Wisconsin, declined to talk about his son except to say, "I'm pretty busted up and I just don't have my thoughts together."

The major, who had been stationed in Orange County since last June, had served in the Persian Gulf War and had been awarded the Southwest Asian ribbon and Navy Commendation Award, El Toro's Cpl. Deanna McDaniel said.

Dogs and his wife lived in a condominium complex in a gated community in Mission Viejo.

"I heard about the helicopter going down, and I hoped it wasn't him," said an upstairs neighbor, Bonnie Lee.

Lee described the Marine as blond, with boyish good looks.

"He was so cute, you just wanted to squeeze him," she said.

"He would stand out on weekends washing his car, and [his wife] would lie down in a chaise lounge nearby to keep him company," Lee said. "They were really very close. It's very sad."

Neither Barnes, Guajardo nor Tsoris was married. Barnes and Guajardo were transferred to El Toro in 1996, and Tsoris had been stationed there since 1994, a base spokeswoman said.

*

Tsoris, who served in the Gulf War, barely escaped death in another helicopter accident caused by an electrical malfunction about 1 1/2 years ago, said his 58-year-old father, Nicholas Tsoris.

"He survived that one, but the whole thing went up about 150 feet in the air and just came straight down," Tsoris said. "It exploded after he got out. . . . I'm not sure if that was the same helicopter" involved in Saturday's crash.

Tsoris said he was supposed to visit his son last week but had to cancel the trip. Then on Sunday, after he returned home from an out-of-town wedding, some Marines knocked on his door with the news.

"We were looking for some hope that he really hasn't died because we saw on CNN that they were still searching," Tsoris said. "But the Marines told us it was over."

Tsoris, described by family members as a kind and happy young man who loved woodworking, joined the Marines after high school because he wanted to go into aviation, his father said.

"He loved it," Tsoris said. "We could tell it was dangerous work, but he didn't talk about it a lot. He didn't want to scare us. He held back a lot."

The crew was part of an El Toro helicopter squadron serving with the 13th Marine Expeditionary Unit at Camp Pendleton. The men were preparing for a six-month deployment by practicing skills that typically involve transporting Marines in and out of combat zones, Holloway said.

The crash was used Monday by a group of San Diego County activists to argue against the planned transfer of more than 100 Marine helicopters from Orange County to the Miramar Naval Air Station. The group worries about daily missions over populated areas.

"We don't want to appear crass; this is a great tragedy," said Jerry Hargarten, a Poway resident and chairmen of Move Against Relocating Choppers Here. "But it is a reminder that this can happen, that these aircraft do fall out of the sky."

The crash occurred a year to the day after another CH-46 went down during training in North Carolina, killing 14 Marines including a 20-year-old Santa Ana native, Lance Cpl. Jose L. Elizarraras. In 1989, two El Toro Marines in a CH-46 died in a desert crash.

The helicopter has been involved in several other accidents. In one of the most recent, a CH-46 rolled over and burned at an Orlando, Fla., airport in September. It was carrying reporters accompanying President Clinton on his campaign trail.

The CH-46 was first used in Vietnam. In recent years, military officials have conceded that the 238 aging Sea Knights need to be replaced, and plans to substitute the helicopters with the V-22 Osprey are underway.

Times correspondent Frank Messina contributed to this report.

Source:
May 13, 1997|THAO HUA and GEOFF BOUCHER | TIMES STAFF WRITERS Times correspondent Frank Messina contributed to this report.
Submitted by:
Alan H Barbour, Research Historian, 20170913
---
News Report
The helicopter disappeared Saturday night after taking off from the USS Juneau during exercises about 10 miles off the coast of Camp Pendleton. The aircraft and its crew were part of a joint exercise between Marine forces from El Toro and a squadron from Camp Pendleton.

CNN has learned that crew members on the Juneau witnessed the helicopter's crash.

"Military officials are interviewing crew members aboard the USS Juneau and reviewing flight data to determine what went wrong," said military spokeswoman Lt. Megan Mason.

Saturday's crash was the fourth in less than a year involving a Sea Knight. It is one of the oldest aircraft used by the military, first used in 1964 during the Vietnam War.

Officials investigating the cause of the crash are looking at whether the helicopter's pilots were flying with the assistance of night goggles. The goggles have been investigated as a possible contributing factor in dozens of accidents since the 1970s.
Submitted by:
N/A, 20170914
---