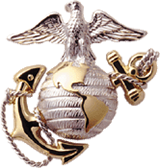 Incident Date 19670127 VMO-2 UH-1E 151884+ - Crash, Instrument Meterological Conditions
[CREW]
Ringenberg, Jerome Joseph 2ndLt Co-Pilot VMO-2 MAG-16 1967-01-27 (vvm 14E:086)

---
RINGENBERG JEROME JOSEPH : 095356 : USMCR : 2ndLT : O1 : 7335 : 24 : LITTLETON : CO : 19670127 : hostile, crash, land : Crew : body recovered : Quang Tri :02 : 19420416 : Cauc : Protestant/single : 14E : 086
---
Personal Narrative
Wingman crashed in fog landing at Quang Tri during return from combat mission at Khe Sanh - 0/0 IFR WX – no instrument approach available at Dong Ha. Had to follow river (low level) to Quang Tri. Investigation showed Jerry Ringenberg did not have his shoulder straps fastened and was killed by impact with cyclic. Remainder of crew survived.
Submitted by:
Capt AH Barbour, Section Leader, VMO-2, 20030804
---
Official Report of Casualty, Department of the Navy

Died 27Jan67 vicinity of Quang Tri Republic of Vietnam when the aircraft which he was co-pilot crashed to the ground when returning from a combat escort mission.

Submitted by:
N/A, 20030804
---
Personal Narrative
We were returning from Khe Sanh area to Dong Ha. Dong Ha was 0/0. We could not land and elected to try to reach Quang Tri Army compound. Our A/C (the lead one) effected a safe landing with barely more than fumes in the tank. The second A/C was very close behind in the fog. When we touched down, visual contact was lost with the second A/C.

The crew of our A/C immediately deplaned and ran out to recover the crew of the second A/C, stopping only long enough to be warned by the guard tower sentry that the RF/PF owned the night and we would be shot by him if we proceeded. We told him to do what he had to do and proceeded to recover the crew. Lt. Ringenberg was KIA because he failed to fasten his seat belt causing his head to impact the cyclic when the A/C clipped the rice paddy dike. We recovered the body and the three WIA were carried to the dispensary at Quang Tri. When daylight came, an H-34 brought us some JP in 55 gallon drums so we could resume our mission.

LCpl Everett Dupee, who worked in S-4, was the gunner in the second A/C. Don't recall the crew chief names in either A/C, although I am sure both crew chiefs as well as Dupee and myself were all from the same hooch. Ironically, Dupee had shoved me aside so he could be the gunner on the second A/C. I think about that a lot.

I don't know if anyone told us the second A/C had crashed. Just as we deplaned, we observed the running lights/rotating beacon disappear and proceeded to check out the situation on foot. I'm sure it wasn't the sentry. He's the one who was going to shoot us for leaving his perimeter.

I always remembered that they had hit a rice paddy dike. It took a month to
get that slop off my boots.
Submitted by:
Cpl. James E. Shriver, Gunner on lead A/C, 20030804
---
Personal Narrative
As I remember, Capt Al Barbour was the Flight Leader for a flight of 2 VMO-2 Huey gunships. Capt Chris Bradley was Pilot in Command of the 2nd aircraft. Both had flown from Marble Mountain to support Marines at Khe Sanh. Both had been on the 20 minute fuel warning for over 20 minutes when they arrived at Quang Tri in marginal weather. The first Huey managed to land but Chris Bradley went IFR at less than 20 feet altitude and subsequently crashed into a Vietnamese grave. Jerry Ringenberg was killed on impact.
Submitted by:
Ron Osborne, VMO-2 Squadron Pilot, 20030804
---
Personal Narrative
We were flying out of Khe Sanh because a **** sandwich developed in/near-Laos. Marines were surrounded and one H-34 was hit and three H-46's shot down (one H-46 crashed into a parked gun bird, ours, at Khe Sanh and burned, later.

At the time we had to do an instrument takeoff with no way back. Had to go to Dong Ha after flying the mission. During one of my gun runs, I lost one hydraulic system and aborted back to Dong Ha. I remember it well - wondering when I would lose the other system and crash in the mountains. Anyway, later in the night Chris Bradley launched from Khe Sanh, flew a mission, and tried to land at Dong Ha. No joy. Fogged in, so he aborted to Quang Tri, tried to land, but lost it in the hover, and crashed. All survived except Ringo. I don't know fuel state, but Quang Tri if about as far as you could go after what we did.
Submitted by:
Lew Larson, pilot, VMO-2, 20030804
---
Personal Narrative
Captain Barbour was definitely the flight leader in VS 18. Captain Bradley was the pilot of VS 20. We had actually lauched on the 26th of January and was approaching 24 hours of either flight, re-fueling or re-ammoing. The declassified VMO 2 action report records 5 flights and 5 missions credits. Ken Schweitzer was the crew chief on VS 18 and even though the action report reflects Doc McClaughlin as the crew chief, we were both designated as crew chiefs and I was in the right seat. Without a doubt the 20 minute fuel light had been on for the full 20 minutes. After being knocked unconcious, it goes without saying that I was totally disoriented, it was a \"thank God\" relief to hear the voices from the lead crew. I would like to use this public forum to thank Barbour, Connors, Schweitzer & Shiver for digging me out of the rice paddy and getting me to the Quang Tri Australian field hospital.

TL Bowman
VMO 2 66-68

Submitted by:
Terry Bowman, Crew Chief on VS 20, 20080119
---
Personal Remembrance
My previous post erroneously listed the gunner on VS-20 as Everett Dupee. It was Terry Bowman. All three of us were hootch mates. Both were injured at various times. The fog of war from almost 50 years causes memory issues. The article in the June 2016 issue of POPASMOKE newsletter and a review of the AAR for that mission caused me to realize it was Bowman.
Submitted by:
James Shriver, Gunner on VS-18, 20160624
---