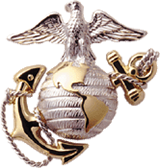 Incident Date 19900729 HMLA-367 UH-1N BuNo unknown - - - Accident during training on Chocolate Mountain gunnery range
[CREW]
Stancil, Anthony Capt Co-Pilot HMLA-367 1990-07-29
Maguire, Robert Major Pilot HMLA-367 1990-07-29

---
STANCIL, ANTHONY : USMCR : CAPT : O3 :
MAGUIRE, ROBERT : USMC : MAJ : O4
---
Report from Houston Chronicle - 7/29/1990
In Southern California, a UH-1N Huey helicopter crashed in the Chocolate Mountain Bombing Range, about 55 miles northwest of the Marine Corps Air Station at Yuma, Ariz., said Capt. Mary Baldwin, a Camp Pendleton spokeswoman.

The helicopter's pilot, Maj. Bob Maguire, and co-pilot, Lt. Tony Stancil, were killed in the crash, Baldwin said.

The Huey was carrying practice rockets and small-caliber ammunition, Rodriguez said. The pilots were not wearing night-vision goggles.

Source:
Houston Chronicle Archives - July 29, 1990
Submitted by:
Alan H Barbour, Historian, Historian, USMC Combat Helicopter Association, 20100401
---
Personal Commentary
There were a total of four aircraft on site when the accident occurred. Two Cobras' were flying high, popping flares for illumination, while two Huey's were attacking simulated ground targets. As the first Huey was breaking off the second Huey was rolling in hot when a mechanical failure occurred and the aircraft crashed. Both pilots were killed on impact. Three other crew members sustained moderate injuries and were medevaced to Yuma Regional Medical Center.
Submitted by:
Allen Herring, Involved, 20100405
---
Additional Information
They were wearing NVGs.
Submitted by:
Michael, Part of mishap investigation, 20130104
---