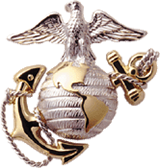 Incident Date 19651125 VMO-6 UH-1E - BuNo unknown - - Hostile Fire
[CREW]
Hack, Benny Glen LCpl Gunner VMO-6 MAG-36 1965-11-25 (vvm 03E:113)

---
HACK BENNY GLEN : 2080205 : USMC : LCPL : E3 : 6491 : 20 : WACO : TX : 19651125 : Hostile, died of wounds, small arms fire : Ground Casualty : body recovered : Quang Tin : 01 : 19450708 : Cauc : Protestant/single : 03E : 113

---
Personal Narrative
Benny Hack was a gunner and was hit in the head by a .50 cal on his first flight, he was the only one hit in the huey. Maj. R.D. Purcell was the pilot, I don't know who the rest of the aircrew was.
Submitted by:
Ed Alexander, VMO-6, 20030802
---
Family Information

I am benny's sister and am looking to find anyone who served with my brother in Viet Nam. I would just like to correspond with someone who was with him.


Submitted by:
Sharon Hack Moore, Sister, 20080407
---