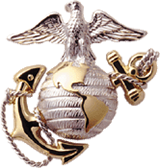 Incident Date 19660611 HMM-164 CH-46A 151935+ - Crash, Instrument Meterological Conditions
[CREW]
Golden, Robert Walter Cpl Crew Chief HMM-164 MAG-16 1966-06-11 (vvm 08E:062)
Tabor, Dennis Richard Cpl Gunner HMM-164 MAG-16 1966-06-11 (vvm 08E:041)

---
GOLDEN ROBERT WALTER : 2059116 : USMC : CPL : E4 : 6418 : 21 : ST PAUL : MN : 19660619 : Air Loss Crash Land : Died of Injury from crash 660611: Crew : body recovered : Pleiku : 03 : 19450227 : Cauc : RomanCatholic/single : 08E : 062
TABOR DENNIS RICHARD : 2022712 : USMC : CPL : E4 : 6611 : 22 : ST PAUL : MN : 19660611 : Air Loss Crash Land : Crew : body recovered : Pleiku : 03 : 19431005 : Cauc : Protestant/single : 08E : 041
---
HMM-164 Command Chronology - June 1966
HMM-164 Command Chronology - June 1966:
The squadron was in support of the U. S. Army 101st Airborne Division and Operation Hawthorne. Four CH-46A's were used for medical evacuation in the operations area (Dak To to ZB0222). A total of 63 medevacs were lifted out of the area under extremely hazardous conditions due to close proximity of the enemy. One aircraft crashed while making an ASR approach into Dak To. The aircraft contacted trees and broke into three parts, cause unknown. The crewchief (Cpl R. W. Golden) and the gunner (Cpl D. R. Tabor) both suffered fatal injuries while both pilots were hospitalized with minor injuries.

Comment on Incident (from Command Chronology):
INJURIES TO CREW - Aircraft #3:
1stLt R. M. Stein - Cam Ranh Bay Hospital
1stLt T. N. Tift, US Army Hospital, Okinawa
Cpl R. W. Golden - fatal
Cpl D. R. Tabor - fatal

Other pilots in flight of four:
Maj O. C. McDonald (flight leader); Capt J. L. James (HAC
#2); Lt P. A. Ducat (HAC #4); Lt D. L. Buck; Lt G. L. Thomas; Lt G. R. Bettle

Submitted by:
N/A, 20030802
---
Personal Narrative
Cpl. Mechlenburg was crew chief on YT-5. Cpl. Gary Via was the gunner. I believe the Army officer was Carpenter and had a layout in Life magazine after calling in artillery on his own position while being overrun.

They missed clearing the ridgeline by approx. 20 ft. The two pilots went over the ridgeline still strapped to their seats. The largest piece of the helicopter was the ramp, which was still in one piece. I do not remember either of the pilot's names nor the pilot's names that flew the rescue helo.

We did not have enough cable on the winch to reach the ground, so we lowered the helo down between trees the downed helo had hit. The corpsman and ground troops that had been inserted in a grassy area carried Cpl Golden, who was lifted out first and taken to the hospital because he was still alive but unconscious. He died two days later [19 June 1966].

Cpl. Tabor had hit a tree we were told and was dead when they found him. The pilots were the last to be lifted out because they weren't found until Cpl. Mechlenburg spotted one of them. After hoisting the first pilot and taking him to the hospital, we went back to the same area and Cpl. Mechlenburg also spotted the second pilot and he was also hoisted out and taken to the hospital.

I only remember three helicopters going on the mission but I could be mistaken after all these years. I have the penciled names of Tabor and Golden that I took off the memorial in Wash. D.C. I can still see their faces and will never let them be forgotten. Submitted by Gary M. Via, gunner on rescue CH-46

Submitted by:
Gary M. Via, gunner on rescue CH-46, 20030802
---
Personal Narrative
This mission was to Dak To in support of the USArmy when a US Army Lieutenant called airstrikes in on top of his position...Black Mac the Super HAC (from Pensacola flight school days) was mission commander. When we got to the Army base, they wondered why we were there. They had not requested immediate support. The weather was marginal and the Army had radar at the airfield. My a/c was #2 in flight. First 2 got down and were waiting for #3 when I went outside of ops hooch and looked back along flight path and happened to see a plume of smoke on the ridgeline. We waited longer and decided to fly back along ridgeline to see if smoke I saw was a/c. MAJ MacDonald took his a/c on into combat area and ordered other 2 a/c to look for downed #3 a/c. After flying along flight path for one hour, someone found a/c in the trees along top of ridgeline. Out of 4 crew and 1 corpsman, the crewchief and gunner died in hospital of internal injuries because they were only secured to a/c with monkey harness instead of strapped into seat. Corpsman was strapped into seat and had only scratches and 2 pilots were protected by armored seats. One pilot was Ron Stein [1stLt R. M. Stein] and I think the other was Hugh Fuller [it was 1stLt T. N. Tift]. I don't remember the other flight crew who got killed.
Submitted by:
D Buck, on same mission, 20030802
---
Personal Narrative
I want to thank the people responsible for creating this website. I also wish to thank those veterans who gave personal narratives about the details of this incident.

My father was Corporal Dennis Tabor. I was told about midway through grade school that he had been killed in a helicopter crash in Vietnam, but was not given any details beyond that.

I haven't done a web search on his name in a couple of years. When I found and read this last night I was reduced to a bawling baby. There isn't a day that passes where I don't at some point wonder what life would've been like had he survived.

From what I understand, he had already served one tour over there and wasn't required to go back. He did so of his own accord. I am very proud of that fact. I was very young when he was killed and never got a chance to know him although I am told he was handsome, very kind and always wore a smile.

Semper Fi,
Submitted by:
Christopher Neff, son of Cpl. Dennis Tabor, 20041006
---
Family Information
I knew your father. We got to know each other on the second tour for both of us. You are right, he was always carring a smile. He was a good man and I am proud to have served with him. I was wounded in the Nam, but your dad gave it all. I miss him and will never forget us together. Your dads buddy "Shooter".
Submitted by:
John (Shooter) Prevost, knew Tabor, 20100422
---
Personal Information
I would love anyone with more information to contact me. Especially Christopher Neff. I have all the paperwork and letters from my uncles passing. Plus childhood pictures and such.

Chief Sean Tabor, USCG
Submitted by:
Sean C Tabor, Nephew of Cpl Tabor, 20140529
---