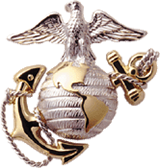 Incident Date 19670501 HMM-165 CH-46A 150268+ / YW-9 - Mechanical failure, Crash at Sea
[CREW]
Corfield, Stan Leroy SSgt Gunner HMM-165 MAG-36 1967-05-01 (vvm 19E:004)
[PASSENGERS]
Soulier, Duwayne PFC Passenger HQ/7thCommBn 1stMarDiv 1967-05-01 (vvm 19E:008)
Smith, Carl Arthur LCpl Passenger B/1stSupportBn, 1stMarDiv 1967-05-01 (vvm 19E:007)
Lipton, Joseph Price LCpl Passenger H&S/1/1stForSvcRgmt 1967-05-01 (vvm 19E:006)
Guajardo, Hilario H PFC Passenger H&S/1/5 1stMarDiv 1967-05-01 (vvm 19E:005)
Gaughan, Roger Conrad Cpl Passenger M/3/5 1stMarDiv 1967-05-01 (vvm 19E:005)
Dillworth Jr., Earl LCpl Passenger M/3/5 1stMarDiv 1967-05-01 (vvm 19E:004)
Bailey, John Howard Sgt Passenger M/3/5 1stMarDiv 1967-05-01 (vvm 19E:003)

---
SOULIER DUWAYNE : 2201329 : USMC : PFC : E2 : 0351 : 20 : MILWAUKEE : WI : 19670501 : Air Loss Crash Sea : Passenger : body NOT recovered : Offshore - Military Reg 1 : 01 : 19461231 : Cauc : Roman Catholic/single : 19E : 008
SMITH CARL ARTHUR : 2184978 : USMCR : LCPL : E3 : 1381 : 21 : ATTICA : NY : 19670501 : Air Loss Crash Sea : Crew : body NOT recovered : Offshore - Military Reg 1 : 01 : 19460405 : Cauc : Roman Catholic/single : 19E :
007

LIPTON JOSEPH PRICE : 2243718 : USMC : LCPL : E3 : 0311 : 18 : FLORAL PARK : NY : 19670501 : Air Loss Crash Sea : Passenger : body recovered :Offshore, South Vietnam : 01 : 19490203 : Cauc : Protestant/single : 19E : 006
GUAJARDO HILARIO H : 2313507 : USMC : PFC : E2 : 0351 : 19 : SAN ANTONIO : TX : 19670501 : Air Loss Crash Sea : Passenger : body NOT recovered : Offshore - Military Reg 1 : 00 : 19471201 : Cauc : Roman Catholic/single : 19E :
005

GAUGHAN ROGER CONRAD : 2117503 : USMC : CPL : E4 : 0311 : 20 : BELCHERTOWN : MA : 19670501 : Air Loss Crash Sea : Passenger : body NOT recovered :Offshore - Military Reg 1 : 02 : 19460624 : Cauc : Roman Catholic/single : 19E :
005

DILLWORTH EARL JR : 2224346 : USMC : LCPL : E3 : 0311 : 21 : SHEFFIELD : AL : 19670501 : Air Loss Crash Sea : Passenger : body recovered : Offshore - Military Reg 1 ( I Corps ) : 01 : 19450607 : Negro : Protestant/married : 19E : 004
BAILEY JOHN HOWARD : 2128311 : USMC : SGT : E5 : 0311 : 19 : DOCENA : AL : 19670501 : Air Loss Crash Sea : Passenger : body NOT recovered : Offshore - Military Reg 1 ( I Corps ) : 02 : 19470705 : Cauc : Protestant/single : 19E : 003
CORFIELD STAN LEROY : 1683185 : USMC : SSGT : posthumous promotion : E5 : 6341 : 26 : GALLUP : NM : 19670501 : Air Loss Crash Sea : Crew : body NOT recovered : Offshore - Military Reg 1 ( I Corps ) : 08 : 19400825 : Cauc : Protestant/married : 19E : 004
---
Personal Narrative
On this date, HMM-165 loss one squadron mate, Stan Corfield. There is a Marine listed as a crewman who was not. I just got off the phone with Jim "Wizzy" Wissmar who told me the other crew member was Terry Blossier (the aircraft's crew/chief). Wizz was there that day; the aircraft that went in was his wing bird. Therefore, L/Cpl Carl A. Smith (MOS, 1381) should be listed as a passenger.
Submitted by:
Gary Zimmermann, HMM-165, 20030804
---
LOSS COORDINATES
UTM for off-shore loss of CH-46A 150268 is BT 750 150 per 1974 USMC document
retrieved from Library of Congress site. That location is 23 KM E-NE of Chu
Lai airfield, just north of Iles de Poulo Canton.

Submitted by:
Ken Davis, Researcher, The Virtual Wall, 20030804
---
Personal Narrative
Stan was with 165 from Dec. of 1965 till he was KIA on May 1. His SerNo I have as 1683185 and he was the gunner aboard that A/C, which was our #9, and BuNo 150268. I'm not sure how I got this BuNo any more, but I'm sure Terry Blosser; the C/C remembers. John Tatum was the a/c commander and I don't remember who the copilot was. Of the 17 on board; 4 crew & 13 walking wounded, we lost 8. Al, as I told Gary we were a flight of 2; I was lead, and had all the litter patients. It was late; probably about 2300 when we got to the ship.
Submitted by:
Wizz Wissmar, HMM-165., 20030804
---
Comment on Incident from Task Force Omega Files

On 1 May 1967, SSgt. Stan L. Corfield was assigned as the door gunner of a CH46A Sea Knight helicopter that was conducting a medevac mission. The helicopter, whose crew was from HMM-165, MAG-36, 1st Marine Air Wing; was transporting wounded Marines from the hospital at Chu Lai, Quang Tin Province, South Vietnam to one of the US Navy's hospital ships stationed in the South China Sea.
The following were Marines who had been wounded during combat operations and transported to the hospital at Chu Lai for medical treatment. They were Marine passengers onboard the Sea Knight being evacuated to the hospital ship:
Sgt. John H. Bailey, Company M, 5th Marines, 1st Marine Division
Cpl. Roger C. Gaughan, 3rd Marine Battalion, 5th Marines, 1st Marine Division
PFC Hilario H. Guajardo, 1st Battalion, 5th Marines, 1st Marine Division
LCpl. Carl A. Smith, Company B, 1st Support Battalion, 1st Marine Division
PFC Duwayne Soulier, Headquarters Company, 7th Command Battalion, 1st Marine Division
Just before the aircraft crashed into the water, the pilot made an emergency Mayday call outlining their emergency and giving their position, which was approximately 12 miles east-northeast of Chu Lai and 57 miles southeast of Da Nang. Search and recovery (SAR) operations were launched immediately and rescue helicopters were on site within minutes of the loss. SAR personnel were able to locate and rescue the pilot, co-pilot, crewchief and at least 1 Navy corpsman assigned to this flight. However, they were unable to find any trace of Sgt. Bailey, SSgt. Corfield, Cpl. Gaughan, PFC Guajardo, LCpl. Smith and PFC Soulier.
The US Navy believed the six men were trapped inside the helicopter when in rolled over on its side and sank to the bottom of the South China Sea. At the time the formal search operation was terminated, John Bailey, Stan Corfield, Roger Gaughan, Hilario Guajardo, Carl Smith and Duwayne Soulier were listed Killed in Action/Body Not Recovered.
Under the circumstances, it is highly unlikely the remains of the men killed in this tragic loss at sea can ever be found without a massive underwater salvage/recovery operation being undertaken.

Submitted by:
N/A, 20030804
---
Comment on Incident
Medevac mission went down with medevacs aboard off hospital ship. Died when the helicopter they were being evacuated in crashed offshore in Military Region 1.
Submitted by:
N/A, 20030804
---