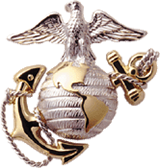 Incident Date 19670510 HMM-164 CH-46A 151923+ / YT-5 - Hostile Fire
[CREW]
Looney, Paul Thomas Capt Pilot HMM-164 MAG-16 1967-05-10 (vvm 19E:084)

---
LOONEY PAUL THOMAS : 089775 : USMCR : CAPT : O3 : 7562 (H-46) : 25 : SHELBURNE FALLS : MA : 19670510 : Hostile, small arms fire while airborne (died of wounds) : AircraftCommander : body recovered : Quang Tri : 04 : 19410610 : Cauc : Roman Catholic/married : 19E : 084 : SILVER STAR 10MAY67
---
Personal Narrative
The members of recon team "Breaker" were under fire by an NVA company when Capt Looney and his crew attempted the extraction, during which he was fatally wounded on 10 May 1967. We, the family and friends of recon team "Breaker" are grateful for Capt. Looney's dedication and mourn his loss. Submitted by Kelly West, friend of Sam Sharp

Recon team "Breaker" consisted of the following men:
Lt. Heinz Ahlmeyer, Jr. KIA/BNR
HM3 Malcolm Miller KIA/BNR
LCpl. Samuel Sharp, Jr. KIA/BNR
Sgt. James Tycz KIA/BNR
Clarence Carlson - survivor
Carl Friery - survivor
Steven Lopez - survivor

Submitted by:
Kelly West, 20030804
---
HMM-164 Command Chronology for 10May1967:

YT-5 received ... 23 hits. The pilot, Capt P.T. Looney was fatally wounded.

Submitted by:
N/A, 20030804
---
CASUALTY CARD

LOONEY, Paul Thomas . . . 089775/7562, Capt, USMC, HMM-164 . . . Died 0350H 10May67 3rd Medical Battalion Khe Sanh Republic of Vietnam result missile wound of undetermined origin penetrating supraclavicular causing massive uncontrollable hemorrhage and shrapnel wounds face and lower extremities sustained 0300H 10May in vicinity Khe Sanh Republic of Vietnam when helicopter he was pilot of was fired upon by hostile forces when about to touch down in landing zone.

Submitted by:
N/A, 20030804
---
Personal Narrative
My fellow crewchief Jack Acosta and I were the last to see the bodies of the Breaker team members that were left behind. We were overweight in our slick with the three survivors and fires ignited by napalm were burning throughout the extract zone.

I've been working with the Joint Task Force for some time, providing them with information from Marine archives that helped them pinpoint the extraction point. In May, 1998, I was invited to speak to the JTF at Camp Smith in Hawaii. At the very time I was speaking, a search team was enroute to the hill, northwest of Khe Sanh. The next day, the NCOIC of the JTF called me to say the team had reached the summit of the hill and discovered the remains of American uniforms. The JTF had hoped to conduct a forensic dig on the hill in 1999, but other priorities intervened. They've told me they hope to return to the hill this summer and attempt to recover remains. The hill is quite remote and has had the reputation among the mountain people of being haunted, so it's remotely possible that some remains may be uncovered. Quite a large number of NVA were up there that day, and the hill was blasted apart by fixed wing after we pulled the three survivors out. Nevertheless, it has always pained me that we could not recover the bodies and I'm hopeful that some fragments will be returned. If so, they'll come through the mortuary at Dover, Delaware Air Force Base, and I've asked the JTF to permit me to be present to finish the job we left incomplete thirty years ago.

The VMO-3 crewmembers that extracted the three survivors were:
Maj. Charles Reynolds
Lt. David Myers (who was killed about a month later)
Cpl. Jackie L. Acosta
Cpl. Ronald Zaczek

The VMO-3 gunship crews on the extraction were:
Maj. Richard Sancho
Lt. Edward Lord
Cpl. Larry Zimpfer
Cpl. James A. Holland

Capt. Rodney Alley
Lt. Richard Gregson
Cp. Dave Vermillion
Cpl. James H. Holland

Submitted by:
Ron Zaczek, VMO-3, 20030804
---
Comment on Incident
I was the co-pilot. My logbook lists the BuNo as 151923.
Submitted by:
John Roots, HMM-164, 20030804
---
Exerpt from "Bonnie Sue" by Marion Sturkey
Capt P.T. Looney had just arrived at Khe Sanh from the SLF to replace the HMM-164 H-46 crew that had been stationed there for a four-day tour. He was assigned the mission to extract the remnants of recon team BREAKER who were wounded, under fire and surrounded. Radioman Lopez and LCpl Carlson were the only two members of the team left alive. During the approach, the NVA opened up on the H-46 at a very low altitude, wounding all but the copilot. Capt Looney crawled out of his seat with a severe chest wound, and died shortly after arrival at the Khe Sanh aid station.
Submitted by:
N/A, 20030804
---
Personal Narrative
I would love to hear from anyone that was involved with this mission. Malcolm Miller was my Uncle and I would love to hear from anyone that is willing to share their memories of him. Does anyone know if there are any future plans to return and locate any remains?

Submitted by:
Dana Fisher, Malcolm Miller was my Uncle, 20040603
---
Personal Comments
My husband was Lt. Donald McDermid, who was present and a part of that event. He told the story many times, and it remained one of his traumatic events of Viet Nam. P.T. Looney was his friend. He never forgot him.
Submitted by:
Barbara McDermid, wife of survivor of the event, 20110716
---
Personal Recollection
Captain "Tucker" Looney attended the same elementary school (Crittenden) and high school (Arms Academy) as me. His house was located right next to Crittenden school. His sister Joyce also graduated from both schools. I retired from the Marines after 28 years as a MGYSGT. I served quite a few of those years in helicopters (1955-1983) The lady who is trying to contact Joyce may want to write to the Arms Academy Alumni Association Shelburne Falls Mass. R/S Gordie
Submitted by:
gordon koncal, High school friend, 20100213
---
Family Information
My father has pictures of Capt. Looney taken at Ft. Bragg shortly before he went to Vietnam. I would appreciate any help in locating his daughter to give them to her.
Submitted by:
Pam Gibbs, friend, 20090215
---