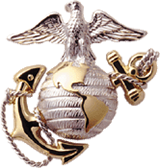 Incident Date 19670512-1 HMM-363 UH-34D 147190+ / YZ-78 - Hostile Fire, Crash
[CREW]
Jackson, John Wendell Cpl Crew Chief HMM-363 MAG-36 1967-05-12 (vvm 19E:096)
Basinger, Richard Louis Capt Pilot HMM-363 MAG-36 1967-05-12 (vvm 19E:092)

---
JACKSON JOHN WENDELL : 1811700 : USMC : CPL : E4 : 6332 : 23 : SHREVEPORT : LA : 19670512 : hostile, killed by mortar round while airborne : CrewChief : body recovered : Quang Tri :04 : 19430811 : Cauc : Protestant/married : 19E : 096
BASINGER RICHARD LOUIS : 090501 : USMCR : CAPT : O3 : 7335 : 24 : KENTON : OH : 19670512 : hostile, killed by mortar round while airborne : AircraftCommander : body recovered : Quang Tri :06 : 19421124 : Cauc : Protestant/married : 19E : 092


---
From HMM-363 Command Chronology for 12 May 1967

"At approximately 1700H, YZ-78 suffered a direct hit by enemy mortar fire shortly after lifting from a landing zone at YD 117692. The aircraft crashed and burned killing the pilot [Richard Basinger] and crew chief [John Jackson] and injuring the co-pilot [George Hadzewycz] and aerial gunner [unknown]."

Submitted by:
N/A, 20030804
---
Capt. Richard L. Bassinger
Photo provided by Combat Aircrewman Granville "RAD" Schultz Jr. ( S2) HMM-363 ,67-68. (photo as 1stLT) Capt. Richard L. Bassinger was KIA near Con Thein on 12 May 67. His son, Mark has set up a web page to honor his dad at http://rlbasinger.tripod.com ;Mark attended the 2000 Popasmoke reunion along with his wife to meet and speak with those who knew his father. Mark has also traveled to vietnam to visit his dads KIA site.
Submitted by:
webmaster@popasmoke.com, POPASMOKE webmaster, 20030819
---
Personal Narrative
I was the Battalion Air Liaison Officer of 1st Bn, 4th Marines at the time of this action. The location was an area of dry, abandoned rice paddies approx. 500 meters South of the Battalion's Con Tien CP.

For quite a while, we had been forced to bring in our daily resupply missions in this area because any attempt to land on the hill at Con Tien resulted in immediate, heavy incoming artillery fire from NVA in the DMZ. We moved the actual zone every day in an attempt to prevent the artillery Forward Observers from accurately registering a single LZ. The FOs were getting more accurate each day and we suspected that they had infiltrated to some nearby location where they were able to observe us.

I agree with the narrative of the HST member in this string of narratives with the exception of believing that the round that hit the UH-34 was a 122mm artillery round rather than a mortar round or rocket. I think that the fire was being received from a 2 gun 122mm battery located in the Southern DMZ and that this round was in the third or fourth volley that the FO "walked" from West to East across the LZ. There was no friendly fire in the area at this time.

When it was hit, the UH-34 had lifted and was beginning to accelerate to the Southeast over a small grouping of abandoned grass huts. It immediately rolled to the right impacting violently on its right side and was engulfed in flames. Two crew members escaped the crash and as I recall were taken by helo back to Dong Ha.

Given the fire that engulfed the aircraft, continued enemy fire and approaching darkness, we were unable to approach the aircraft that night. Early the next day, accompanied by a rifle squad for security and a Corpsman, I went to the crash scene and the Corpsman and I recovered the remains. Despite the intense fire, it was possible to positively identify the remains by their positions in what remained of the aircraft. The HAC's remains were still in his seat and the Crew Chief's to the rear and what would have been "lower" in the aircraft. I have no doubt that both had died upon impact. I seem to recall that both wore ID Tags laced into their boots, but am not certain on that point.

The remains were recovered with all possible dignity, escorted to Con Tien and later evacuated to Dong Ha.
Submitted by:
Jack Hales, USMC (Ret), Battalion ALO, 1/4 - Recovered the remains, 20090519
---
Personal Narrative
I was a member of 3rd Shore Part Battalion, an HST team. I was directing that helicopter at the time. When the helicopter came to the LZ, it dropped off two or three green 55 gallon drums, which I assume was diesel fuel; and one 55 gallon barrel, red with white belly band - mogas.

As they kicked the last barrel off, I felt the ground rumble behind me. It was the rumble of what I think was 140mm rockets. I immediately gave the emergency signal to wind up and get away. I arm signaled for the pilot to go south. He ended up going south east.

The chopper got approximately 80 yards from the LZ, when he was hit by a 140 or 120 mm rocket, on the left side behind the main rotor.

One of the members of the crew managed to run back to the LZ, and he actually got into our amtrak before we did. When I got into the amtrak, he was already there. He had a deep cut in his chin, but he was not bleeding badly. And he was in shock, and he was holding his .38 pistol in his left hand and was wearing his flight suit.

The only discrepancy that I have seen in the report is that the chopper was hit by rocket, not a mortar. That does not change the outcome. If he had not gotten as far away as he had, we on the LZ would have been in trouble. As soon as the enemy seen the smoke, they commenced to lay in approximately 30 more rockets, but they were shooting at the smoke. If those thirty rockets had landed on the LZ, there would have been a lot more casualties. It's ok to contact me at (909) 823-2863.
Submitted by:
Dennis M. Earl, directing helicopter at time of incident, 20030804
---
Personal Narrative
I would be very interested in reading the "official" incident report regarding the incident in which my father, Capt Richard Louis Basinger HMM-363, was killed. I was told by one of his squadron mates, Doug Darran, that the official incident report is wrong. I was told by the copilot, George Hadzewycz, that they were on an emergency resupply mission to the outpost at Con Thien, to deliver fuel needed for a generator. Upon lift off out of the zone, at about 100' altitude, they were hit by a mortar round that exploded on my dad's side of the helicopter, instantly killing my dad and the crew chief, John Wendell Jackson. My dad's flight log indicates that this was a UH-34D helicopter, serial number 147190. Marion Sturkey's book "Bonnie Sue" gives an account of this incident on page 371, indicating that helicopter YZ-78 was shot down at YD-117692, only 800 meters south of the outpost at Con Thien.
Submitted by:
Mark Basinger, son of deceased, 20030804
---
First Hand Narrative
I was the aerial gunner on YZ-78 on May 12,1967. At the time I was a Lance Corporal. If anyone wants to contact me for infoirmation about this incident, please do so. My address is RR2 Box 319 McLeansboro Il 62859.
Submitted by:
Ronald R. Hartline, Aerial Gunner on YZ-78, 20070221
---
Former classmate
I was a class mate [1960] of your father[Richard L Basinger] in Bluffton, Ohio. He left Bluffton after finishing the 8th grade. We also played junior high football together. Sadly we never touched base again. I am a retired naval officer. Ive been asked to speak on Memorial Day this year. I plan to augment the speech with background on your father. What background can you provide starting in 1956: what high school, college, major field, what sports did he play, hobbies, when did he join USMC?
Warm regards,
Terry L. Marshall
Submitted by:
Terry L. Marshall, High School classmate 1956, 20190227
---
Capt Richard Louis Basinger, HMM-363
Submitted by:
POPASMOKE Admin, 20050204
---
Cpl John Wendell Jackson
Submitted by:
POPASMOKE Admin, 20050204
---
Capt Richard Louis Basinger, HMM-363
Submitted by:
POPASMOKE Admin, 20050204
---