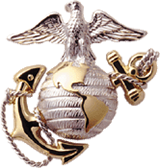 Incident Date 19670730 HMM-164 CH-46A 151945+ / YT-15 - Hostile Fire, Crash
[CREW]
Waterman, Craig Houston 1stLT Co-Pilot HMM-164 MAG-16 1967-07-30 (vvm 24E:053)
Frederick, David Addison Capt Pilot HMM-164 MAG-16 1967-07-30 (vvm 24E:051)
Byars, Earnest Ray LCpl Crew HMM-164 MAG-16 1967-07-30 (vvm 24E:050)
Biscailuz, Robert Lynn LCpl Crew HMM-164 MAG-16 1967-07-30 (vvm 24E:050)

---
WATERMAN CRAIG HOUSTON : 021134018 : USMCR : 1stLT : O2 : 7562 (H-46) : 23 : REHOBOTH : MA : 19670730 : hostile, crash, land : Copilot: body recovered :Quang Tri :03 : 19431014 : Cauc : Protestant/single : 24E : 053 : Arlington National Cemetery
FREDERICK DAVID ADDISON : 137324402 : USMC : CAPT : O3 : 7562 (H-46) : 25 : COLUMBUS : OH : 19670730 : hostile, crash, land : AircraftCommander : body recovered : Quang Tri :06 : 19420622 : Cauc : Protestant/married : 24E : 051 : Arlington National Cemetery
BYARS EARNEST RAY : 452742588 : USMC : LCPL : E3 : 6320 : 19 : HOUSTON : TX : 19670730 : hostile, crash, land : Crew : body recovered : Quang Tri :01 : 19480429 : Cauc : Protestant/single : 24E : 050 : Arlington National Cemetery
BISCAILUZ ROBERT LYNN : 562625624 : USMC : LCPL : E3 : 6332 : 21 : MIDWAY CITY : CA : 19670730 : hostile, crash, land : Crew : body recovered : Quang Tri : 01 : 19460724 : Cauc : Protestant/single : 24E : 050 : Arlington National Cemetery
---
Personal Narrative
On 30 July 1967, I launched on a 2-plane mission to relieve a battalion of some of their dead troopers that they were bringing back after an operation in the DMZ. The pick up zone was located west-northwest of Quang Tri in what was known as the Three Sisters area. The zone was a small clearing with a trail going north and south to the west side of the one-plane zone. The area was hilly with thick scrub growth that made it hard to see for any distance. The battalion appeared to have had a tough time and the troopers walking south on the trail looked bushed. The tanks supporting them were burdened with body bags and the battalion was having to fight their way south. Our mission was to relieve the battalion of the body bags and any wounded and deliver then to Quang Tri.

We launched from Quang Tri and Capt. Frederick and Lt. Waterman manned the other CH-46 with LCpl Biscailuz and LCpl Byars as crew. We had two huey gunships along as support. The weather was hot and humid and mostly clear. We had contact with the battalion on our FM radios and they reported sporadic fire over the last half hour in the area. The Hueys made parallel runs into the LZ as I made my first approach from east to west with Capt Frederick orbiting at 3,000 feet. After I was loaded and departed the LZ Capt Frederick made his approach with the Hueys providing covering fire. We joined up and departed for Quang Tri and off loaded the body bags and returned immediately to the LZ. On the second approach we received light fire on our approach and departure from the zone. The battalion was very efficient and the loading was accomplished at a rapid pace.

On the third trip into the zone the fire increased and as I left the zone one of the Huey pilots reported that the second aircraft had gone in. As I made a left turn, I looked back and saw a large fire on the top of a small knoll about a half mile east of the zone.

The Huey leader reported that the aircraft had started to descend and had not pulled out of his decent. I reported this to Quang Tri and the battalion and headed to Quang Tri to unload and return to the zone. Both hueys remained at the landing zone and I was told later that the battalion had sent a team to the crash site. They had to fight their way there and back but had retrieved the dog tags of the crew when the crash had cooled down. I made one or two more trips into the zone until I had all the body bags and we left the site and returned to base.

My log book shows a 4.3 hour flight in BuNo 152536. The HMM-164 command chronology for 30 July 1967 does not contain any details. It states: "Two aircraft were launched on medical evacuation missions. While on approach to the pick up zone, one aircraft, BuNo 151945, was observed to go out of control and crash, killing all four crew-members. There were no passengers aboard. The aircraft was not recovered." Submitted by Ed Langley, HMM-164 Operations Officer, Section Leader.

Submitted by:
Ed Langley, HMM-164 Operations Officer, Section Leader, 20030815
---
"MIA'S REMAINS FINALLY BACK ON NATIVE SOIL"
"MIA'S REMAINS FINALLY BACK ON NATIVE SOIL
WAR: A U.S. Marine from Midway City who was killed in Vietnam is buried at Arlington National Cemetery."
By GARY A. WARNER, The Orange County Register

"Lance Cpl. Robert Biscailuz Jr. was buried Friday with full military honors, a horse-drawn caisson pulling his flag-draped coffin to a place in the nation's most-hallowed ground at Arlington National Cemetery.

For 26 years, the Marine from Midway City had lain in a tomb of another kind - a burned out Marine helicopter grown over with thick vines and grass, forgotten except for his family and a parade of Pentagon insiders whose job was to track the missing-in-action list.

For parts of four decades, enemy fire, a morass of jungle and, finally, years of political animosity between Vietnam and the United States had stopped anyone one from bringing Biscailuz back from Southeast Asia.

"We had given up all hope that he would ever get home," said Robert Biscailuz Sr., who still lives in Midway City.

But with a thaw in U.S. Vietnamese relations, efforts began last year to find Biscailuz and more than 2,000 other Americans believed dead in Indochina. Last month, the helicopter was found.

On Friday, the younger Biscailuz and three fellow crewmen were buried. A Marine rifle team in dress-blue uniforms and white caps fired a volley in salute, and Biscailuz's mother, Virginia, was handed an American flag that her son had traveled so far from home to die for.

"Now it's finally over," his father said.

The Vietnam War already was grabbing headlines when Biscailuz graduated from Westminster High School in 1965. It was still widely seen as a patriotic campaign against communism in Southeast Asia.

Biscailuz kicked around Orange County for a year after high school. One day he visited a recruiter who told him about "the buddy program." Friends were guaranteed they would train and serve together.

Biscailuz thought it was a great idea to go to war with three friends from the neighborhood. One quick tour of duty, maybe a medal or two, then back to Midway City to settle down with his girlfriend, Marlene Gunlogson.
He never made it back. On July 24, 1967, Biscailuz celebrated his 21st birthday. Six days later, on a medical evacuation flight outside Dong Ha, his helicopter came under fire and crashed into the jungle.

"We had letter's from people who saw the flight go down," his father said. "His commanding officer said a team went into the crash site, but there was nothing they could do. Enemy fire drove them away."

Because their bodies were never recovered, the crew – Biscailuz, Capt. David Frederick, 25, of Columbus, Ohio; First Lt. Craig Waterman, 24, of Reheboth, Mass.; and Lance Cpl. Earnest R. Byars, 18, of Houston - were listed as missing in action.

The family didn't harbor real hope that Biscailuz had been captured.

"For the first time," his father said. "we know for sure."

The searches will continue. The Pentagon believes that 2,255 Americans remain unaccounted for in Southeast Asia."

Submitted by:
Gary Warner, Orange County Register, 20030815
---
Personal Narrative
The following was copied from my old journal kept almost daily until things just got too busy and I was away from my books:

July 31, 1967 Phu Bai

A black veil is hanging over me today because yesterday about 1000 we lost a plane and the crew in or around the DMZ.

I lost two friends on this mission. One was my old defensive football coach back in new River, Captain Frederick and the other, Corporal Byars, the first man to greet me from HMM 164 at Marble Mountain.

They were at Dong Ha flying Med. Evac all night and early morning when the bird YT-15 was said to have crashed and burned after rolling over on its side. Later recon got to the wreck and brought out the dog tags. All four of the crew were killed. This included Cpl Biscailuz and Lt. Waterman.

It seems as if we were to have bad luck this week because it was just Thursday when YT-17 crashed and burned while taking off from Phi Bai. Luckier the crew, for no one was hurt too seriously. I witness[ed] the crash from the back of the flight line along the outer road. It was the first time I had ever seen a CH46A go in…

I want to do my duty, what is expected of me, but I also want to return home to build a better life. I will just have to trust my life to the Lord Almighty for him to do with me what ever [it is] he wishes. SEMPER FIDELIS.
Submitted by:
Chuck Nowotny, HMM-164, 20030815
---
Personal Narrative
On 30 July 1967 the following crew members were killed: Capt. David Frederick, lstLt Craig Waterman, LCpl Robert Biscailuz, LCpl Ernest Byars. Although the sterile listing of the names and other official data are listed under the KIA incidents section of the website there are no personal recollections of squadron mates who were in the squadron at that time about what happened. Please, if anyone was in HMM-164 on 30 July 1967 and knows what happened go to the Pop-A-Smoke KIA incidents and post a short narrative about the mission. All of the HMM-164 KIA's except for these four have first hand accounts by friends who were there at the time. Thanks for your help. Semper Fi.
Submitted by:
Col. Warren C. "Dad" Watson, CO, HMM-164, May 65-Feb 67, 20030815
---