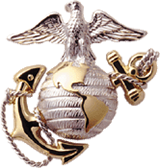 Incident Date 19670803 HMM-164 CH-46A 151923+ - Hostile Fire, Crash
[CREW]
Gopp, Thomas Alan Cpl Crew Chief HMM-164 MAG-16 1967-08-03 (vvm 24E:072)
[PASSENGERS]
McGrath, James Patrick HN Corpsman-Pass A/3rdRECBn, 3rdMarDiv 1967-08-03 (vvm 24E:073)
Wolpe, Jack LCpl Passenger A/3rdRECBn, 3rdMarDiv 1967-08-03 (vvm 24E:075)
Nahan III, John Benedict LCpl Passenger A/3rdRECBn, 3rdMarDiv 1967-08-03 (vvm 24E:073)

---
MCGRATH JAMES PATRICK : B501682 : USNR : HN : E3 : HN : 18 : CHICAGO : IL : 19670803 : hostile, crash, land : Passenger - Corpsman("A"Co/3rdRecBn) : body NOT recovered : Thua Thien (Hue) : 01 : 19481207 : Cauc : RomanCatholic/single : 24E : 073
WOLPE JACK : 2133011 : USMC : LCPL : E3 : 0311 : 25 : NEWBURGH : NY : 19670803 : hostile, crash, land : Passenger ("A"Co/3rdRecBn) : body NOT recovered : Thua Thien (Hue) :02 : 19420115 : Crew : Hebrew/single : 24E : 075
NAHAN JOHN BENEDICT III : 2202009 : USMCR : LCPL : E3 : 0311 : 22 : ALLEGAN : MI : 19670803 : hostile, crash, land : Passenger("A"Co/3rdRecBn) : body NOT recovered : Thua Thien (Hue) :01 : 19450620 : Cauc : Roman Catholic/single : 24E : 073
GOPP THOMAS ALAN : 2137321 : USMC : CPL : E4 : 6332 : 20 : NEW LONDON : OH :
19670803 : hostile, crash, land : CrewChief : body NOT recovered : Thua Thien (Hue) :02 : 19470315 : Cauc : Protestant/single : 24E : 072

---
Personal Narrative
Cpl. Gopp was the Crew Chief on a flight launched on an emergency extraction (YC545820) in the Ashau Valley in support of Operation Cloud.

One aircraft piloted by Lt. J. L. Connolly and co-piloted by Lt. W. W. Lindsay was shot down in the zone resulting in 4 KIA's and 8 WIA'.

The second aircraft piloted by Capt. A. Kirk and co-piloted Capt. D. C. Brodie came into the zone and picked up the survivors and received multiple hits in the aircraft. The gunner on the second aircraft was SSgt Calvin Jackson, Squadron Armorer who fired nearly 300 rounds of 50 cal ammo while picking up the survivors. This information about the mission was obtained from. LtCol.(Ret) Ed Langley who was HMM 164 Admin Officer.
Submitted by:
Donald Barnes, SSgt, Flight Line Section Leader, 20030815
---
Homecoming II Project 01 April 1990
LOSS COORDINATES: 160622N 1072247E (YC545820)

SOURCE: Compiled by Homecoming II Project 01 April 1990 from one or more of the following: raw data from U.S. Government agency sources, correspondence with POW/MIA families, published sources, interviews.

REMARKS: SURVIVS EXTRACT SAY DEAD - J

SYNOPSIS: In early August, 1967, a nine-man team from A Company, 3rd Reconnaissance Battalion, 3rd Marine Division began a night reconnaissance patrol in the AShau Valley that was spotted by a Montagnard tribal woman and child, who alerted a nearby North Vietnamese unit.

North Vietnamese troops slowly surrounded the Marine patrol and another that had joined it, trapping them for two days in hopes of luring a helicopter rescue.

The following day (August 3), the first of two helicopters arrived and loaded some men from the patrols, but was hit by a bazooka shell [B-40] and crashed during takeoff. The pilot was killed by small-arms fire. The nine passengers were believed to have perished, but all of their bodies could not be recovered because of hostile fire.

John Nahan and Jack Wolpe were passengers aboard the aircraft. They were two of the A Company Reconnaissance patrol ["A"Co/3rdRecBn]. Thomas Gopp was crewchief of the helicopter. James McGrath was a U.S. Navy hospital corpsman attached to H&S Company accompanying the Recon team. These four were listed as Killed in Action, Body Not Recovered (KIA/BNR).

Submitted by:
N/A, 20030815
---
Task Force Omega
Comment on Incident from Task Force Omega:
[http://taskforceomegainc.org/w417.htm]
On 1 August 1967, LCpl. Jack Wolpe and PFC John B. Nahan III were assigned to Company A, 3rd Reconnaissance Battalion, 3rd Marine Division (Rein). They were part of a nine-man reconnaissance team that had been inserted by helicopter into the jungle covered mountains at the extreme southern end of the infamous A Shau Valley, Thua Thien Province, South Vietnam to conduct a long range reconnaissance patrol (LRRP). Hospital Corpsman 3 James P. McGrath was also assigned to this team.

On the evening of the second day the team was spotted by a Montagnard tribal woman and child. They alerted nearby North Vietnamese Army (NVA) troops who successfully surrounded the Marine patrol and brought it under hostile fire. Throughout the night the reconnaissance team managed to evade capture. Further, because the team was already scheduled for extraction the following morning, the team made its way to the briefed Landing Zone (LZ) - a small clearing located approximately 1 mile south of a primary road, 2 miles north of the South Vietnamese/Lao border, 27 miles southwest of Hue, 29 miles southwest of Hue/Phu Bai Airfield and 54 miles due west of Da Nang.

The recovery helicopters arrived as scheduled and began loading the team. As one of the Sea Knight helicopters became partially airborne, it took a heavy volume of enemy small arms and automatic weapons fire, causing onboard ordnance to explode, then the helicopter crashed back to the ground triggering an enemy land mine in the process. According to the survivors who were able to exit the severely damaged hulk; HM3 McGrath, LCpl. Wolpe and PFC Nahan were mortally wounded and died instantly. Cpl. Thomas A. Gopp, the Sea Knight's crewchief, who was assigned to HMM-164, MAG-16, also died instantly.

Another helicopter assigned to this extraction mission immediately landed as close as possible to the Sea Knight's wreckage to pick up survivors. Due to the close proximity of the NVA troops and the heavy volume of enemy fire directed at the Americans, it was virtually impossible for the survivors to recover the remains of HM3 James McGrath, PFC Nahan, LCpl. Wolpe and Cpl. Thomas Gopp and take the bodies with them as they raced under fire to the rescue aircraft. When it became clear that no further recovery operation was possible due to the continued enemy presence in and around the crash site, James McGrath, John Nahan, Jack Wolpe and Thomas Gopp were listed Killed in Action/Body Not Recovered.

For every insertion like this one that was detected and stopped, dozens of others safely slipped past NVA lines to strike a wide range of targets and collect vital information. And while there is no doubt these four men are dead, there is also no doubt the communists know exactly where their remains were buried and could return them to their families, friends and country any time they had the desire to do so.

Submitted by:
N/A, 20030815
---
"A Marine makes it home at last"
Published Tuesday, June 19, 2001, in the Akron Beacon Journal
"A Marine makes it home at last"

It has taken almost 34 years, but Cpl. Thomas Gopp is finally coming home. He left Dover, in Tuscarawas County, as a young man fresh out of high school. This week he is returning to Ohio shrunk down to a piece of shin bone and several teeth.

War and the passage of time can do that to a man. Gopp joined the Marine Corps in 1965, soon after high school, and went to Vietnam the following year. On Aug. 3, 1967, he and three others were struck by a rocket during the daring helicopter rescue of a reconnaissance crew trapped in Thua Thien-Hue province. Gopp, an airman, was helping three members of the reconnaissance team when the rocket killed all four men.

Other crew members saw Gopp die, but had to flee without bringing back his remains. So, until recently, he was one of 1,973 Americans still officially unaccounted for. That changed earlier this year.

In May, Gopp's family was informed that there had been a DNA match between his remains and a blood sample from his birth mother. And on Thursday, Gopp's remains will be interred at the Ohio Western Reserve National Cemetery in Rittman, where he will be given a hero's farewell. Six Marines will act as his pallbearers, there will be a 21-gun salute, and a bugler will play taps. Gopp's father, who also served in the Marines and now lives outside Philadelphia, will be given the folded flag.

Fifty other American flags will be flying at the cemetery in tribute. Cemetery representative Tim Bean said Gopp will be the first returned MIA to be buried at the national veterans cemetery, which is marking its first anniversary today. With Gopp's burial, his family will also get a chance to bury 34 years of uncertainty and anguish.

Despite the sad circumstances of her brother's homecoming, Claire Cowfer of Wadsworth is happy. For years, she flirted with the idea that her younger brother had not died but was a prisoner of war. She would feel conflicting emotions of hope and guilt at the thought. "Now I know it was an instant death and I thank God," she said. "It was a relief to finally know that he did not suffer." Cowfer said her brother was at the door of the helicopter trying to get the crew to safety when he was killed. "He was a hero," she said.

When her two children were younger, Cowfer would involuntarily think of her brother each time they said something funny or celebrated a birthday. "All my life," she said, "I missed him when the kids were growing up." Because they were children of divorced parents, Cowfer said, she and her brother were very close. "We comforted each other," she said. "He was like my big brother. He was always there for me."

Tom Gopp went to Vietnam because he came from a family of Marines and because he believed in the war. "He took life as it came," Cowfer said. "I believe he thought he was doing the right thing."
Getting Gopp out of Vietnam was much harder than getting him in. For years, there was no agreement between the U.S. and Vietnamese governments on the search for MIAs. "You go back to the last known position'' where the person was seen, said 1st Sgt. Thomas Lewnes of the Marine Corps Reserve Center in Akron. "It's a matter of going back and looking."

The site where Gopp's remains were found was first excavated in May of 1994. Remains found there were turned over to U.S. authorities the following month and taken to the Central Identification Laboratory in Hawaii, where they were kept all these years.

"I knew they found some remains," said Gopp's birth mother, Mary Kerns of Dover. "I just didn't know whose." In 1995, Kerns donated blood for a DNA test. She also filled out a questionnaire about her ancestry. Finally, this year there was an answer: The DNA matched. "It made me feel so good that my blood is what gave us an answer,'' Kerns said.

It is unclear why it took the government all these years to identify Gopp's remains. The U.S. Marine Corps Casualty Branch in Quantico, Va., did not respond yesterday to this question. Kerns, 80, said she has been asking the government for answers since 1995. "I kept at the government," she said. "I bugged the daylights out of them." Cowfer said Kerns tried hard to bring Gopp home. "It's largely because of her that he's home now," Cowfer said. "And I'm thankful." Earlier this year, Kerns even wrote a letter to Secretary of State Colin Powell. "I have pushed and pushed to get an answer," Kerns says. "I've been praying for an answer for years, and now I have it."

Submitted by:
Akron Beacon Journal, June 19, 2001, 20030815
---
Personal Narrative
I'll write up a short summary on this. I have some pictures taken a few years ago when the JTFFA recovery team went to the site. Four of us made it out. Aircraft was hit with a B-40 while sitting in the zone to extract us. I have been in comms with the pilot over the years.
Submitted by:
Bill McBride, patrol leader of Partyline One, on board, 20030815
---
Comment on Incident
Updated: 24 August 2001
There will be a memorial service at Arlington National Cemetary on 21 September to inter the remains of Tom Gopp (HMM-164), Jim McGrath, John B. Nahan III, and Jack Wolpe.
HQMC is handling the arrangements. The honor guard will be from Marine Barracks, 8th and I.
• Schedule of Events To be added week of 27 August
• Map of cemetary showing location of Memorial Service
• List of 3rd Recon Marines and Corpsmen, Family and Friends planning to attend
• Local nearby motels and hotels
• Dinner/Lunch plans for 3rd Recon, family, and friends

Submitted by:
N/A, 20030815
---
Supplemental Information
Please see the pages for Jack Wolpe (http://www.arlingtoncemetery.net/jwolpe.htm) and James P McGrath (http://www.arlingtoncemetery.net/jpmcgrath.htm) which were updated to reflect that Gopp's and Nahan's remains were released to the families for reburial. Just above the monument of the Group Burial photo, you can see:

November 9 2001

Memorial Service Starting Time: 1100 (information as of 4 October)

Memorial Location: Ft. Myer Old Chapel

Interment Location: The Interment will be in Section 60 off of Bradley Road.

The remains of THOMAS ALAN GOPP were recently returned to his family and he now rests in honored glory in the OHIO WESTERN RESERVE NATIONAL CEMETERY in Rittman, Ohio. He became the first Missing in Action serviceman to be buried at this National Veterans Cemetery which marked its first anniversary on 19 June 2001.

The remains of John Benedict Nahan III were laid to rest in the Church Cemetery of the Sacred Heart Catholic Church in Watson Township, Michigan, on Saturday, 18 August 2001.

The remains of James Patrick McGrath were laid to rest with Jack Wolpe at Arlington National Cemetery on Friday, November 9, 2001.
Submitted by:
Jack Morrison, Memorial Page Update on The Virtual Wall, 20130226
---
Personal Narrative
I have had the POW\MIA bracelett of Cpl. Gopp since 1984. I Joined the Marines after high school. My enlistment date was August 4th, 1987... 20 years and one day after our brave brother was KIA. I have honored this bracelett for 23 years.

It is with great pride and a few tears that I learned of his return home to his family.
Since I have no way of returning the bracelett to his family, I will leave it at The Wall on my up coming visit to D.C.

Submitted by:
Lcpl. Pete Georgantas, Wearer of the bracelett, 20070927
---
HN James Patrick McGrath, Corpsman
http://www.popasmoke.com/visions/image.php?source=2306



Submitted by:
POPASMOKE Admin, 20050206
---
Burial Information - Arlington National Cemetery
Buried at Arlington
Photograph By M. R. Patterson, October 2002

Submitted by:
N/A, 20050515
---