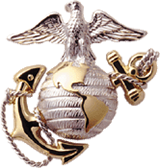 Incident Date 19680223 HMM-164 CH-46A - BuNo unknown - - Hostile Fire
[CREW]
Clark, Lonnie Warren Cpl Crew Chief HMM-164 MAG-36 1968-02-23 (vvm 40E:073)

---
CLARK LONNIE WARREN : 2196895 : USMC : CPL : E4 : 6320 : 23 : VALLEJO : CA : 19680223 : Hostile, hit by ground fire while airborne (died of wounds) : CrewChief : body recovered : Thua Thien (Hue) :02 : 19441217 : Negro : Protestant/single : 40E : 073
---
Personal Narrative
My information isn't first hand. Some of it came from Gary Columbo (KIA 680306) and some from Gerald Altic and Dennis Cossey.

The five of us first met in Memphis and stayed together through school and training squadron and finally through orders to Viet Nam. On Okinawa we found that we had been assigned to a fighter jet squadron in Japan, but we managed to get our orders corrected so we could go to an H-46 squadron. Lonnie, Gerald, and Gary to HMM-164, Dennis to HMM-364 and I went to HMM-262. I didn't see the others very often, since we were all a little busy at the time, but we occasionally got together and visited briefly between flights.

The last time I saw Lonnie was while I was in Phu Bai picking up a 262 bird that had been shot down in the area and repaired there. I was walking across the flight line and Lonnie came walking around a bird a short distance from me. In his normal manner, he did a little dance and swagger and walked up, grabbed my hand and threw an arm around my shoulders. We talked briefly, checked on how we were each doing and promised to get together as soon as we could. I told Lonnie to make sure he wore his bullet bouncer. He always did. This was in mid-February.

A few days later I ran into someone from 164 and asked how Lonnie and the others were and was told that Lonnie was killed on a mission into Hue. It was a short mission, and Lonnie hadn't worn his bullet bouncer. He was pulling an external, like we had pulled hundreds of times and took one round.

Lonnie's girl back home wanted to get married before he left, but he wouldn't because he didn't want to leave a widow. He loved music and loved to dance. He was my friend and I miss him.
Submitted by:
Robert L. Harrison, friend of Lonnie's, 20030816
---
Personal Narrative
As I recall, Cpl Clark was on his belly directing pickup/placement of an external through the hellhole when he was hit by hostile fire suffering fatal wounds. Submitted by Bill Weaver, Squadron Aircraft Maintenance Officer
Submitted by:
Bill Weaver, Squadron Aircraft Maintenance Officer, 20030816
---
Personal Narrative
I also knew Lonnie well and spent the month of August '67 on reaction platoon with him at Phu Bai. I have old 8mm movies of Lonnie and me riding in a trash truck on Hwy 1 going to the 3rd Mar Div dump. Doug Lanford, Charlie Baladares and others were all newbys and had details to run before being assigned birds.

I was putting my plane YT-1 "Attaboy" through PAR in Da Nang in late February '68 after leaving Khe Sanh when Lonnie flew in with his old "A" model. He was anxious to get back to Phu Bai and asked me if I'd take apart his plane so he could go back to the Squadron. I agreed and disassembled his bird for him. When I flew back to Phu Bai, I found that Lonnie had been killed in the manner mentioned above a day or so after he switched places with me at Da Nang.

The rear of a 46 was no place to be under fire but he had to be there to operate the winch or hang an external. Prone on the floor was the usual position so as to control the cable in case it started to swing like a pendulum. Only, it was best to have your head facing the rear so as to be more forward. Either way, under fire it was a bad place to be.

Guys like Lon, Gary, Randy et al are forever missed and I am proud to have served with and in the company of those heroes's.

Submitted by:
Chuck Nowotny, 20030816
---
Personal Narrative
Cpl Clark and I talked during preflight the day he was killed. He was scheduled to quit flying in three days. I asked him why, and he told me it was because he didn't want to kill anyone. I have often thought of that conversation.

Submitted by:
William H. Crews, Crew Chief Hmm-164, 20071224
---
Personal Narrative
I was flying as a gunner in the other '46 when Lonnie was killed. Both aircraft were carrying an external load of supplies from Phu Bai to Hue. I recall flying over rice fields when Lonnie's pilot informed us that his crewchief had been shot and he was returning to Phu Bai after dropping the load.

Afterwards I talked with Lonnie's gunner - was it Montgomery; he said that Lonnie had been unable to get the armored vest in time for the emergency mission into Hue. Maybe someone else had taken Lonnie's vest to be used for a prior mission. I wouldn't know. Got the impression that Lonnie was angry after he got shot, as he reportedly had pounded his fist on the deck several times.

A few days before the mission Lonnie had told me that he was getting out of the crewchief business because he had grown tired of all that he was seeing. I was new at the crewmember position and couldn't understand why someone would get tired of all the excitement. Had a lot to learn, didn't I? My daughter, Laura, went to D.C. a few years ago and visited the Vietnam Memorial. She brought back a few mementos concerning Lonnie, Randy, Sgt. Templeton, etc.
Submitted by:
William W. Brown, III, Gunner in the other CH-46 at time of incident, 20090324
---