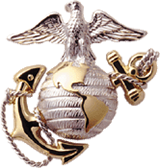 Incident Date 19680306 HMM-164 CH-46A 151943 - Mechanical failure over water
[CREW]
Colombo, Gary Lewis Cpl Crew Chief HMM-164 MAG-36 1968-03-06 (vvm 43E:016)

---
COLOMBO GARY LEWIS : 2197556 : USMC : CPL : E4 : 6320 : 21 : YAKIMA : WA : 19680306 : Air Loss Crash Sea : CrewChief : body NOT recovered : Offshore - region unknown : 02 : 19460906 : Cauc : RomanCatholic/single : 43E : 016
---
Personal Narrative
Comment on Incident:
Cpl Gary Colombo was Crew Chief on a CH-46A maintenance test hop from the decks of the USS Valley Forge while serving with HMM-164. The aircraft experienced dual engine failure and ditched in the South China Sea. Gary was the only crewmember lost. Major Dick Sousa was the HAC.
Submitted by:
Bill Weaver, Squadron Aircraft Maintenance Officer, 20030816
---
Personal Narrative
I wasn't there and so all of my knowledge of the incident came from Gerald Altic who was with Gary when they went in.

Gary Colombo, Lonnie Clark (KIA 680223), Gerald Altic, Dennis Cossey and myself had a long and close relationship. We were closer than most brothers, but when we got to Viet Nam I went to HMM-262, Dennis to HMM-364 and Gary, Lonnie and Gerald to HMM-164. I saw them only occasionally, but our friendships never waned; we all worried about each other and checked on each other whenever possible.

I had run into Lonnie in mid-February and had a good, but brief visit and found out how every one was doing. A couple days later Lonnie was dead from an AK round through the chest, because he wasn't wearing his bullet bouncer. A couple days later, I got word that Gary and Gerald had gone in the water off the Valley Forge.

Gerald had managed to get out, but Gary didn't. I spoke with Gerald extensively after the accident and was told that they were on a test hop and were dumping fuel when both engines flamed out. If you remember the early 46's had the fuel dump switch and the fuel shut-off switch side-by-side. Anyway the engines flamed and they went in nose down.

Gary was standing in the door and Gerald was at the left gun. There was a gun in the window and both Gerald and Gary had on their flight jackets under their May West's. The bird had rolled to the right and Gerald looked and saw Gary going out the door.

They were under water and going down fast when Gerald managed to squeeze over the gun and away from the plane. He popped up still wearing his flight gear, including helmet and side arm.

He looked around and saw a couple of other guys in the water and figured that one of the pilots hadn't gotten out because he knew Gary had. Gary's helmet came to the surface along with his flight jacket, but Gary didn't make it.

Before we shipped out from the States, we had spent a lot of time body surfing at the Wedge and Gary, although a good swimmer was afraid of the water. It was big and heavy and he wasn't comfortable with it. Maybe he got tangled in the rotor or sucked back into the bird, we will never know, but he took off his May West, flight jacket and helmet in his struggle to live. I wish he had.

On leave before going over, we drove from LTA to my home in Boise, Idaho and a friend of his picked Gary up and took him on home to Walla Walla, Washington. His home was Walla Walla, not Yakima as is listed in the fact sheet.

After I rotated home, I drove to Walla Walla to see his folks. Gary was an only son and his father was a farmer. Gary had often spoke of him and wanted to work with him. I met his mother, father and sister, who, as it turned out was married to an old friend of mine.

Gary's father couldn't accept that he was gone. It had hit him hard and wanted me to assure him that he could have been captured and would be found alive when it was all over. I couldn't do that as much as I wanted it to be true.

Gary, Lonnie, Gerald, Dennis and I were closer than most brothers. We lost Gary and Lonnie in Viet Nam. Dennis passed away a couple years ago in Denver and I haven't heard from Gerald in years. I love you guys.
Submitted by:
Robert L. Harrison, friend, HMM-262, 20030816
---
Personal Letter
The comments by Robert were accurate. Robert, If you read this, go to popasmoke mailing list. I will be there. Would love to hear from you. Sorry to hear about Dennis. Sounds like you and I are all that's left.
Submitted by:
Gerald Altic, with Gary that day, 20041214
---