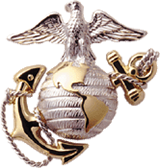 Incident Date 19680428 HMM-165 CH-46A 152535 (YW-14) - Hostile Fire
[CREW]
Romero, Robert William Capt Pilot HMM-165 MAG-36 1968-04-28 (vvm 52E:042)

---
ROMERO ROBERT WILLIAM : 093402 : USMCR : CAPT : O3 : 7562 (H-46) : 26 : SAN DIEGO : CA : 19680428 : hostile, hit by small arms fire above landing zone : AircraftCommander : body recovered : Quang Tri : 03 : 19420312 : Cauc : Roman Catholic/single : 52E : 042 : SILVER STAR 28APR68
---
HMM-165 Command Chronology - April 1968
28 April 1968. Major J E Prather launched from Phu Bai with Capt R W Romero as his wingman, assigned the mission of conducting a troop lift in the CaLu area. Five sorties were made into the drop zone lifting 155 troops and 4 MedEvacs. However, on the last sortie Capt Romero's A/C received fire, one round of which struck and killed Capt Romero. He had received two other wounds earlier in his tour but continued to serve with distinction until his death. Capt Romero's courage and devotion to duty will be forever an inspiration to all who knew him.
Submitted by:
N/A, 20030921
---
HMM-165 Command Chronology - April 1968
Casualties. Captain Robert W. ROMERO 093402/7562 was killed in action on 28 April 1968 as a result of wounds when he was struck by enemy fire.
Submitted by:
N/A, 20030921
---
First Hand Witness
As I remember we were finishing this mission and received a distress call from Lt. Klahn that Captain Romero had been wounded. Lt. Klahn landed YW-14 in the original LZ, and YW-13 landed to the rear of YW-14 in the same LZ.

I exited YW-13 to help the crew of YW-14. We shut down the aircraft, removed the emergency door and transported Captain Romero to YW-13, for medevac to I believe Quang Tri.

We later learned he had died. I beleive the round entered through Lt. Klahn's open wing window, struck Captain Romero, and exited through Captain Romero's open wing window.
Submitted by:
Gary Brown, YW-13 Crew Chief, 20060411
---
After Action Report - HMM-165 - 28 Apr 68
After Action Report - 85/153 - 3rdMARDIV - 28 Apr 68
Total Time 9.7 - Mission Flight Code 1R5 - Total Sorties 32 - 155 Passengers

A/C HITS: Received - 1, Time - 11:45, Coord - XD 962448, Type of Fire - Small Arms

NARRATIVE:
ATD - 07:45
ATR - 14:50
Route - Phu Bai - Quang Tri - Dong Ha - CaLu - XD 962448 (5 trips) - Capt ROMERO killed on last trip - YW-14 left at CaLu. Capt Romero medevaced to "D" Med - Quang Tri - Maj Prather and Capt Weaver receovered a/c and flew YW-14 at CaLu leaving YW-13 at Quang Tri - Eagle LZ - Dong Ha - Quang Tri - Phu Bai

CREW:
YW-13 Maj Prather (pilot), Weaver (co-pilot), Brewnige? (crew chief), Thompson (gunner)
YW-14 Capt Romero (pilot), Klahn (co-pilot), Williams (crew chief), Baird (gunner)
YW-14A [after Capt Romero KIA] Maj Prather (pilot), Weaver (co-pilot), Williams (crew chief), Baird (gunner)
Submitted by:
N/A, 20030921
---
Personal Narrative
I have always wondered that day of April 28, 1968, when India Company was helo lifted from Ca Lu west to a Mountain top called Hill 512, North of the Quang Tri River; I was in the 4th helicopter, already out and on the ground, crouched in grass when the NVA opened up on us from both sides of the mountain. I remember watching and looking up at the 5th, next helo either coming or leaving (I can't remember) and watching the pilot fall away from the window. Is this the same pilot I saw fall away from the window? How would I find out the circumstances of this mans death?

In May '68 Ca Lu combat base was under the operational control of 2nd Battalion, 9th Marines, which included 3rd Battalion, 1st Marines (SLF Bravo).

I had heard from a corpsman friend that he had died. Shot once in the head and an old letter to my parents said, "In the chest as well as the head."

Any information on where this man was killed would be especially appreciated. HILL 512 [XD 954451 - 12 km ENE of Khe Sanh Combat Base] was located 3 or 4 miles west of Ca Lu Combat Base, north of highway 9 a couple of miles.
Submitted by:
Larry "Doc" Peeples, FMF Corpsman, 2/I/3/1 [BLT 3/1 - SLF (B)], 20030902
---
Personal Narrative
Captain Romero was flying with copilot 1stLt Frank Klahn when a single round entered the cockpit striking Captain Romero. The wound was fatal. This is the report the squadron received from 1stLt Klahn.
Submitted by:
Terry M. Curtis, Squadron Pilot, HMM-165, 20030818
---
Family Information
Capt. Romero was my oldest brother. My family was devastated by his death. I always have honored him and remember his death and the aftermath of this event in our family. My two sons, who never knew him also know him as their uncle.

I have a few pieces of information, his log books, and a couple of pictures. This was a great find to finally read information about him and his death. My parents never spoke much about it.

Thank you for your respectful comments.

Submitted by:
Theresa Romero Jones, Capt ROMERO was my brother, 20111022
---