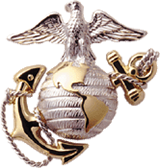 Incident Date 19680619 HMM-161 CH-46D 153381+ - Crash, cargo parachute ingestion from rotorwash
[CREW]
Helmstetler, Michael David 1stLT Co-Pilot HMM-161 PROVMAG-39 1968-06-19 (vvm 56W:031)
Sharp, Lufkin Scott Capt Pilot HMM-161 PROVMAG-39 1968-06-19 (vvm 55W:002)

---
HELMSTETLER MICHAEL DAVID : 0102685 : USMCR : 1stLT : O2 : 7562 (H-46) : 23 : HIGH POINT : NC : 19680619 : hostile, crash, land : Crew : body recovered : Quang Tri :02 : 19450522 : Cauc : Protestant/married : 56W : 031
SHARP LUFKIN SCOTT : 088503 : USMCR : CAPT : O3 : 7562 (H-46) : 26 : GAINESVILLE : GA : 19680619 : hostile, crash, land : AircraftCommander : body recovered : Quang Tri :08 : 19410719 : Cauc : Protestant/married : 55W : 002


---
Comment on Incident
At coordinate XD 835417 (Khe Sanh Combat Base) on 19June68, Captain Lufkin Sharp and First Lieutenant Michael Helmstetler were transporting members of 1st Platoon Kilo 3/9/3 from Hill 881(South) to KSCB in a H-46 Sea Knight. The first approach was aborted at the LZ and on the second attempt the blades picked up a parachute causing the blades to explode. First Lt. Helmstetler was killed on impact and Capt. Sharp was removed from the helicopter by the helicopter crew and taken to "D" Med. Capt. Sharp died enroute to "D" Med from blood loss due to amputations sustained in the crash. First platoon was trapped in the rear of the H-46 due to closure of the rear ramp. Injuries to passengers involved hot aviation fuel burns, contusions, and abrasions. First hand account by passenger Ray(Doc)Felle, 1st platoon kilo 3/9/3, S-3 report for 3/9/3 and information in "The Final Formation" by Rev. Ray Stubbe.
Submitted by:
Ray (Doc) Felle, Kilo 3/9/3 67-68, 20030821
---
Personal Letter
I remember my father telling me about this incident back in about 1988. He was on that choppper when it crashed, serving with K 3/9. He did not sustain any injuries from the accident but it was not something he would ever forget. He arrived in Vietnam early June 1967 and served a 13 month tour before returning home.
Submitted by:
Tim Foster, father, 20050127
---
Personal Recollection
I was at the LZ when this crash happened. I was a new guy in country serving in the Marine Corp field artillery L/4/12. I watched in disbelief as the parachute was pulled up into the rotors. The pilot was killed instantly when the blades collapsed into the cockpit. The co-pilot tried to eject and was hanging upside down from the chopper. One of the corpsman and several Marines went to the chopper and pulled the co-pilot out - we tried to stop the bleeding with tourniquets but the injuries were too bad. Was one of the hardest things I can remember from the war. These two pilots will always be in my heart and I pray that their families know they were brave men in a bad situation. May God Bless the families of these brave warriors. Semper Fi
Submitted by:
Sgt. Paul D. Stout, Was at the LZ, 20101219
---