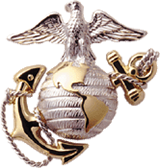 Incident Date 19680824 HMM-262 CH-46D 154022+ - Hostile Fire, Crash
[CREW]
Wyatt, Charles Rembert 1stLT Co-Pilot HMM-262 PROVMAG-39 1968-08-24 (vvm 46W:010)
Ryland, William Patrick LCpl Crew HMM-262 PROVMAG-39 1968-08-24 (vvm 46W:008)

---
WYATT CHARLES REMBERT : 0100292 : USMCR : 1stLT : O2 : 7562 (H-46) : 23 : EAST POINT : GA : 19680824 : Hostile Crash Land (died of wounds) : Crew : body recovered : Quang Tri :02 : 19441004 : Cauc : Protestant/married : 46W : 010
RYLAND WILLIAM PATRICK : 2376233 : USMC : LCPL : E3 : 6320 : 20 : MEMPHIS : TN : 19680824 : Hostile Crash Land (died of wounds) : Crew : body recovered :Quang Tri :01 : 19471202 : Cauc : Roman Catholic/single : 46W : 008
---
HMM-262 Command Chronology - August 1968
At 2000H, 6-1 and 6-2 executed their second approach and landing. The VMO-6 UH-1E gunships were unable to cover all of the enemy fires which were coming from three sides of the zone, and fixed wing support was not available. 6-1 amnd 6-2 took mortars anmd intense small arms fire while in the zone. 1st Lt Goble sustained three WIA among his crew and there were two WIA among the troops while still aboard the aircraft during debarkation. The intense fire resulted in the loss of one engine on Lt Goble's aircraft.

6-1 and 6-2 made a successful trip to C-1 at which time, approximately 2020H, all persons aboard 6-2 EXCEPT Lt Goble and his crew chief, LCpl Keeling, were transferred to 6-1.

Lt Goble then executed a vertical takeoff on single engine and returned to Quang TriAir Field with 6-1. Lt Goble was the first known pilot to accomplish such a feat in the CH-46 under combat conditions.

At 2040H, after volunteering to continue on the mission, Lt Goble obtained a different aircraft AND CREW [POSSIBLY REMBERT WYATT] and returned with 6-1[A] to resume the lift.

At 2055H, Lt Goble's aircraft crashed (believed to be the result of enemy fire) while in an approach to C-2. Operating under the light of artillery illumination missions from C-2 and A-4, medevac aircraft from HMM-161 evacuated all crewmen aboard.
Submitted by:
N/A, 20030826
---
HMM-262 After Action Report - 24 Aug 1968
3R5 3rdMAF

Crew:
Event 6-1, ET-5
Maj Britt - HAC
Martin? - Copilot
Benny? - Crew Chief
Brendle? - Gunner
Smith, E - Gunner

Crew:
Event 6-2, ET-23
Goble - HAC
Nequette - Copilot
Keeling - Crew Chief
Elias? - Gunner
Sprague - Gunner


Takeoff: 1820
Landing: 2345

Coordinates: "TEAM Tender Rancho" - YD 181681
Submitted by:
N/A, 20030826
---
From VHPA records
As far as I can tell, Ryland and Wyatt died in the same aircraft, though it is possible that this is not true. There is a rather confused entry in the Command Chronology that is about a page and a half long. Lt "Woody" Goble was the wingman on a flight led by Major Harvey Britt to extract the division recon team "Tender Rancho" at TA YD181262. The assumption can be made that Lt Wyatt was Goble's copilot, for reasons that will become clear as the story continues. Before the extract it was decided to insert a the first platoon of D/1/1 Marines instead. During the insert attempt at 1930H, the flight began to take fire from multiple .50 cal machine guns. This attempt was aborted until fixed wing and UH-1 gunships could work the zone over. Meanwhile the recon team was receiving heavy mortar and small-arms fire in the zone. At 2000H the flight began its second approach to the zone without any fixed wing or gunship support. Both aircraft received heavy small arms fire and mortar fire while in the zone. Three of Lt Goble's crew were wounded as were two of the embarked troops on their departure. The fire knocked out one of Goble's engines. Goble unloaded his crew except for the crewchief and made a single engine takeoff. (This is where I get my assumption that Wyatt must have been the copilot, since it appears that the copilot was too disabled to assist in the flight.) Goble returned to the base and obtained another aircraft (thought to be BuNo 154022) with the intention of continuing the lift. During the next approach at 2055H he crashed in the zone due to uncertain causes. At this point, Major Britt led a flight of three, consisting of himself, Major Don Waunch, and Capt W E Brian to continue the lift from Charlie 2. Harvey Britt was able to enter the zone and evacuate 12 emergency WIAs from the zone under heavy fire. Major Waunch's aircraft received heavy damage and he was returning to the base for another aircraft when the Commanding Officer decided to call off the operation. By the time that the lift was terminated, we had inserted 95 troops into the zone. We lost one aircraft, three aircraft had extensive damage, six crewmen had been wounded, and Ryland and Wyatt were dead. I was there at the time, having just arrived and was not yet the squadron commander. I remember the event, but not the details. I think, at best, we were all confused, and this is about as complete a report as we could hope for.
Submitted by:
Neil Allen, 20030826
---
1stLt Charles R. Wyatt
http://www.popasmoke.com/visions/image.php?source=1729


Submitted by:
POPASMOKE Admin, 20050206
---