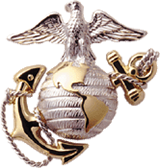 Incident Date 19681015 MABS-16 Ground N/A - Accidental Homicide
[GROUND]
Palmer, Gary James Pvt Grnd Casualty MABS-16 1stMAW 1968-10-15 (vvm 41W:065)

---
PALMER GARY JAMES : 2354877 : USMC : PVT : E1 : 1391 (Bulk Fuel Specialist) : 19681015 : Ground Casualty, Non-Hostile, Accidental Homicide : Quang Nam : 00 : 19471002 : Cauc : Protestant/single : 41W : 65


---
Family Narrative
I am the daughter of Gary Palmer and was wondering if anyone had know exactly what happened to my father. All I know is that he was killed by someone he knew, returning back from guard duty one morning.
Submitted by:
Janet Bitzer, daughter of Pvt. Gary Palmer, 20040613
---
Personal Narrative
I REMEMBER PALMER FROM REACTIONARY PLATOON I WAS ASSIGNED TO WHEN I WAS WITH H&MS-16. WE WERE ASSIGNED 30 OR 60 DAYS GUARD DUTY OR WHATEVER IT WAS. I REMEMBER SPEAKING TO HIM ON SEVERAL OCCASIONS. I DID NOT KNOW HIM VERY WELL. I THINK HE HAD JUST BEEN IN COUNTRY FOR A WHILE. I DO REMEMBER HIM FROM HIS PICTURE.
Submitted by:
L/CPL R. SAN MIGUEL, SPOKE WITH 0CCASIONALLY, 20050418
---
Narrative from Friend
My dad was Gary's platoon Sgt. and was there when Gary died, knew how it happened, and has been haunted ever since. I have known of his name and the tears that come with it since I was a boy. Please contact me asap. 734-915-7944.
Submitted by:
Dennis Mullins, Jr., father knew Gary Palmer, 20051223
---
Pvt Gary James Palmer
Submitted by:
POPASMOKE Admin, 20050207
---