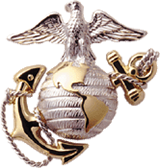 Incident Date 19690207-1 HMM-265 CH-46A 152540+ / EP-17 - Crash, Instrument Meterological Conditions, Overwater
[CREW]
Prombo, John Anthony 1stLT Pilot HMM-265 MAG-36 1969-02-07 (vvm 33W:081)
Glover, Raymond Edward 1stLT Co-Pilot HMM-265 MAG-36 1969-02-07 (vvm 33W:078)
Bergstrom Jr., Wallace Carl GySgt Crew HMM-265 MAG-36 1969-02-07 (vvm 33W:076)

---
PROMBO JOHN ANTHONY : 095652 : USMCR : 1stLT : O2 : 7562 (H-46) :25 : CHICAGO HEIGHTS : IL : 19690207 : non-hostile crash, Da Nang Harbor, drowned : AircraftCommander : body recovered : Quang Nam :06 : 19430712 : Cauc : Roman Catholic/married : 33W : 081
GLOVER RAYMOND EDWARD : 0101931 : USMCR : 1stLT : O2 : 7562 (H-46) :27 : FAIRMONT : WV : 19690207 : non-hostile crash, Da Nang Harbor, drowned : Copilot : body recovered : Quang Nam :02 : 19410420 : Cauc : Protestant/married : 33W : 078
BERGSTROM WALLACE CARL JR : 1690836 : USMC : GYSGT : E7 : 6811 : 37 : WATERBURY : CT : 19690207 : non-hostile crash, Da Nang Harbor, drowned : Crew : body recovered : Quang Nam :16 : 19310711 : Cauc : Protestant/married : 33W : 076
---
Personal Narrative
This flight was returning to Phu Bai from Marble Mountain. Poor visibility, low level across Da Nang Harbor. Lost sight of the lead and presumed to have mistaken a red light on a buoy for their flight leader. Crashed in the harbor.

I was a close friend of Ray Glover. Prombo was the HAC and Glover was his co-pilot. They were the second H-46 in a flight of two. I think the Flight Leader was Cahill.

They had had a busy day, lots of hours, lots of contact. They were tired. A decision was made to low level across the Da Nang Harbor and to low level up the coast to Phu Bai. The visibility was in and out across the harbor. It is believed that they lost sight of the Flight Leader and picked up the red light on a buoy in the harbor. Both sets of eyes outside the cockpit. They hit the water. I believe everyone got out of the aircraft. Everyone had on their bullet bouncer. None had their Mae West. Three drowned, one made it to shore.

Submitted by:
Tom Barron, HMM-265, Squadron Operations, 20030821
---
Personal Narrative
The Phrog that crashed that day was #152540. The name on the side of the bird was "Slick's Sleeper." The crew chief that survived and swam in Da Nang Bay all night long was Stanley McCormick.

EP-17 (BuNo 152501) was my first bird. It was shot down and destroyed by an RPG!! My second. bird was also EP-17 # 152540, named Slick's Sleeper II. BuNo 152540 was the one that crashed in Da Nang Bay with Stanley McCormick as the crew chief and only survivor.
Submitted by:
Tom R. Keltner, Crewchief that taught Crewchief of 152540, 20030821
---
Personal Letter
A scholarship has been started at West Virginia University in honor of Lt. Raymond Glover, his alma mater.
Submitted by:
Lanny Rauer, Friend of Raymond Glover, 20041123
---