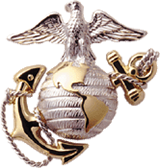 Incident Date 19690301 HMM-164 CH-46A 152537+ / YT-11 - Mechanical failure over water
[CREW]
Burton, Thomas Lee 1stLT Co-Pilot HMM-164 SLF "B" 1969-03-01 (vvm 31W:099)

---
BURTON THOMAS LEE : 095658 : USMCR : 1stLT : O2 : 7562 (H-46) : 25 : OKLAHOMA CITY : OK : 19690301 : Air Loss Crash Land : Crew : body recovered : Thua Thien (Hue) :04 : 19440227 : Cauc : Roman Catholic/single : 31W : 099
---
Personal Narrative
Lt. Burton died when his CH-46 crashed in the South China Sea southeast of Hue. The bird was on a test flight after extensive repairs. There were two crewmen with him but I do not recall their names. I have a cruise book with his picture and other photos if that would be any help.
Submitted by:
Robert Marchiano, 20030821
---
Personal Narrative
H&MS-36 received a hangar queen from MMAF that was basically an airframe with no parts. It was reassembled and flew some test and admin runs until needed by one of the squadrons. Since it was the only CH-46 with H&MS-36, we called it the Phu Bai Orphan. I don't remember where it went but it returned some weeks later slung under a CH-53. Word was the co-pilot had been killed in a crash off the coast of Phu Bai. I have pictures if anyone is interested.
Submitted by:
Wayne Stafford, 20030821
---
Personal Narrative
As a pilot for HMM-164 I flew with Tom numerous times and I bunked with Tom while we were in Phu Bai in 1969. Somehow I was in the right place when someone was needed to go to the morgue to identify Tom. I have never been able to erase that scene from my mind....

I was the "Cruise Book Director" for HMM-164 and dedicated our `68-`69 Cruise Book to Tom. The following story will really move you. I knew that Tom had a girl friend back home, so I sent her a letter telling her that I was a friend of Tom`s, etc., etc.. Here is the letter I got back dated 26 March 69:
"Dear Sherman,
I just wanted to extend my thanks to you for all you have done for me. I used the address you sent and called Tom's folks last night. Tommy was always a man of very few words so I was not surprised at all to find that they didn`t know about me. However, I found them to be warm and very receptive.

When you first wrote to me, I was quite surprised because Tom and I had always had a rather non-comittal relationship. Obviously, he must have conveyed something about me or you would not have known enough of me to write.

Well, after talking to his folks, it seems that Tommy and I were much closer than I ever dreamed. For instance, he told me about the crash he had on Dec. 13th in one of the tapes he sent. His parents didn`t even know he had crashed. Thank God for your last letter telling the manner in which he died because the only thing his parents were told was that he crashed and died, not how.

I am sending them the tapes Tom sent me and his letters. Nothing is too personal to me when I think that it may help his parents know their son better...even in death. I also plan to take leave in July just prior to OCS, and will go through Oklahoma to visit Tom and his parents.

Thank you again so very much for all you have done for me. In all my life I will never be able to repay the things you have given me. No one could have managed to convey such tragic news in such a compassionate manner. I too wish I could sit and talk with you. Thanks again and please take care of yourself, come home. Fondly, Carole." Semper Fi,
Submitted by:
Sherman Malkerson, USMC Squadron mate, 20030821
---
Personal Narrative
We were flying low level, two birds, crew only when Tom's plane just nosed in. We flew cover and watched as 3 crew members got out. I don't think Tom got out until rescue got there. Tom was a great guy who was well respected and liked by everyone in 164. We all miss him.
Submitted by:
Park Cuseo (Sgt.), gunner in the 2nd plane, 20050622
---
Personal Narrative
Date of crash 03-01-69. Time 12:30 pm. Crash occurred during test acceptance flight. Unit HMM-164 A/C YT-11. Co-pilot killed. Crashed into the bay outside PHU BAI. I receive a disability for a back injury from this.
Submitted by:
Gregg Gentzler, 20030821
---
Personal Narrative
Tom and I flew alot together. We often diverted over to the China Beach PX to get lunch and a chocolate shake before we completed our daily missions. Tom had a great sense of humor, and he seldom took himself too seriously, although he did take his job and responsibilities very seriously. I have a video in which Tom participated in cheerfully. If his family is interested I will be happy to get them a copy.

Tom and I grew up in the same town, Oklahoma City, and we often talked about being a couple of Okies in the war zone. Hope this information can be helpful. PS, I am surprised that Major Eichelberger (Ike) has not contributed his views as the other pilot.
Submitted by:
Allen Orcutt, FELLOW PILOT IN HMM 164 WITH TOM BURTON, 20060826
---