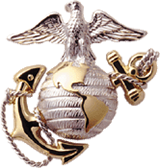 Incident Date 19690607 HMM-161 CH-46D - BuNo unknown - - Hostile Fire
[CREW]
Griffith, Dale Eugene Cpl Gunner HMM-161 H&MS-39/PROVMAG-39/1stMAW 1969-06-07 (vvm 23W:100)

---
GRIFFITH DALE EUGENE : 1988208 : USMC : CPL : E4 : 3371 : 24 : TOLLESBORO : KY : 19690607 : hostile fire, airborne : Crew : body recovered : Quang Tri : 06 : 19441016 : Cauc : Protestant/single : 23W : 100 : TDY from H&MS-39
---
Personal Narrative
I first met Gene in Aug.'68. We were at Camp Pendleton preparing to go to WESTPAC. I had won $100 playing bingo at the NCO club and we really tied one on. Gene was not a big man but he managed to get my 6'2" 200 lb drunken butt up the hill to the barracks. I saw him a lot at Quang Tri even though we were in different units. I was on R&R when he was killed. I wish things were different. He would have made a true lifelong friend.

I don't know what unit Gene was in other than he was TAD to HMM-161 at the time of his death. I saw him on mess duty in April or May of '69 at Quang Tri. There is another guy in Houston that flew with 161 the same time I did. I will contact him and see what he knows.
Submitted by:
George Dugan, friend, 20030821
---
Personal Narrative
I may be way off base here but I was in HMM-161 at that time. I have fuzzy memories of a cook that came to fly with us as a gunner. I believe he was KIA on his first or second flight. I do remember his name was "Griffin" or "Griffith. He would have been in MABS, I think. This took place at Quang Tri.
Submitted by:
L. R. Gilton, crewmember, HMM-161, 20030821
---
Personal Narrative
Cpl. Griffith was a cook with H&MS-39 at Quang Tri and I was a Cpl working in the group S-1. He and I were two of the H&MSters sent TAD to HMM-161 in Jun 69 to fly as door gunners. Our TAD orders were effective 1 Jun and he was killed a week later.
Submitted by:
Jack Dyer, squadron mates (temp. duty), 20040404
---
Personal Narrative
I'm pretty sure I was the pilot. While the details of the incident have probably become somewhat blurred with time, the intensity of the memory has not deminished. I remember every day. Being at the time the same age as Cpl Griffith, I can only be in awe of and thankful to whatever power has given me the thirty-five years he was denied.
Submitted by:
Bob Focht, Pilot on mission, 20041011
---
Incident Details
Aircraft was BuNo 153951, grid XD8766
Submitted by:
Sid Nanson, Independent Researcher, UK, 20130224
---
Personal Narrative
I met Gene in May of 69, as I was a new guy and was assigned to mess duty. He was a little rough on us new guys, so when he came to HMM-161 as a TAD Gunner, some of us had mixed emotions. After we got to know him outside of the mess hall, we all became friends. We are all saddened by his loss, he was a good man.

Even today, thirty plus years later, I remember his tanned face, short hair, that mustache of his, all topped off with that big smile.
Submitted by:
D.V. Miller, a friend, 20051107
---