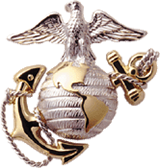 Incident Date 19690708 HML-167 UH-1E 152420+ - Hostile Fire, Crash
[CREW]
Anderson, William Olin Cpl Gunner HML-167 MAG-16 1969-07-08 (vvm 21W:079)

---
ANDERSON WILLIAM OLIN: 569745153: USMC : CPL : E4 : 3051 : 20 : PACOIMA : CA : 19690708 : hostile, crash, land : Gunner : body recovered : Quang Nam : 03 : 19480917 : Cauc : Protestant/single : 21W : 079
---
MAG-16 Command Chronologies for July 1969

"HOSTILE: 082300H Jul69. 19 1/2 miles south west of Da Nang, Quang Nam Province, Crew of UH-1E on recon extraction received intense automatic weapons fire on gun-run and crashed. ALLEN received abrasions left hand and both lower legs. GIAMBRONE suffered laceration of scalp and lip. CARR received fracture of tibia, laceration of scalp and blunt trauma to abdomen. ANDERSON was killed."

Submitted by:
N/A, 20030821
---
Comment on Incident
Mission Flight Crew:
MAJ CARR, J. R. 066781/7563 HML-167/MAG-16/1stMAW Pilot
1stLt ALLEN, R. J. 0100010/7563 HML-167/MAG-16/1stMAW Co-Pilot
LCpl GIAMBRONE, J. M. 2253645/6319 HML-167/MAG-16/1stMAW Crew-Chief
Cpl ANDERSON, W. O. 2235301/3051 HML-167/MAG-16/1stMAW Gunner

Submitted by:
John Lane, researcher, 20030821
---
Personal Narrative
My name is Santos Delgado Jr. and I was there when Cpl. Anderson was killed in action. The main reason I'm writing is because its been 36 years and the memory is still haunting me. Cpl. Anderson and I arrived in Vietnam the same day. We were racing to see who would get the most Air Medals.
That particular day it was my turn to fly that mission, but Olin wanted to take the flight because he needed the flight in order to get an Air Medal.

He begged me to let him go and take my aircraft. This is not normal, but the pilots approved and he took that flight. It has been on my conscience all these years and I need some kind of relief. I would like to write to his family if any.

I'm still taking counseling. These kind of wounds are rare but hurtful. I know there's nothing I can do but it will be a relief that his family knows what he did. Please e-mail me if you need to talk to me.


Submitted by:
Santos Delgado Jr., friend, 20050923
---
Personal Recollection
YES I REMEMBER ANDY'S DEATH QUITE WELL. I HAD JUST RETURNED FROM A MISSION EARLIER THAT EVENING. THE PILOT CAME BACK AND SAID VERY LITTLE.

TWO OTHER PILOTS WANTED TO KNOW WHY HE DIDN'T GET ON THE RADIO AND START LOOKING FOR ANDY. HE SAID NOTHING AND WENT BACK TO HIS HOOCH. LATER ON WE GOT WORD ANDY WAS SHOT DOWN....KIA! THE SHOCK WAS ALMOST TOO MUCH FOR ALL. I WAS IN TEARS, ALONG WITH TWO OTHERS. SITTING HERE AND TRYING TO COPE WITH IS VERY HARD, VERY HARD.

MY NICKNAME WAS OZ, OR GLADYS. HUNSUCKER GAVE ME THE NICKNAME GLADYS.

ITS' LIKE ALL THE TEARS OF THAT ARE BACK. I'M GLAD YOU WROTE. I DON'T
KNOW YOUR NAME....MAYBE YOUR NICKNAME WOULD HELP.

SO FOR NOW I'LL SAY "SEMP FI". I HOPE TO HEAR FROM YOU.....PLEASE.

OZ OR GLADYS
Submitted by:
KEN OSBON, FELLOW CREW MEMBER AND GOOD FRIEND OF ANDY, 20170915
---