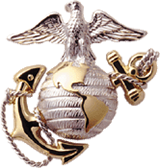 Incident Date 19700306 HMM-262 CH-46D 153987+ / ET-17 - Hostile Fire, Crash
[CREW]
Wilson, Jeffrey Lynn LCpl Crew Chief HMM-262 MAG-16 1970-03-06 (vvm 13W:090)

---

WILSON JEFFREY LYNN : 478544361 : USMC : LCPL : E3 : 6132 : 19 : WATERLOO : IA: 19700306 : hostile, crash, land : Crew : body recovered : Quang Nam : 02 : 19500614 : Cauc : Protestant/single : 13W : 090

---
HMM-262 Command Chronology - March 1970
Four squadron CH-46's launched to insert strike force at ZC 034446, approximately eight miles southwest of Thuong Duc in the Quang Nam Province. While attempting to insert the strike force, they came under intense automatic and small arms fire. One aircraft was shot out of the air and crashed into the zone resulting in the total loss of the aircraft and two WIAs.

On a subsequent attempt to extract the downed crew, another Chatterbox aircraft [ET-17] came under an intense volume of fire resulting in substantial damage to the aircraft, two WIAs and one fatality. Three of the four aircraft involved suffered battle damage. The downed crew was later extracted and the mission successfully completed.Later that afternoon, Chatterbox pilots led a flight of ten H-46s to insert two hundred additional troops into the Landing Zone.
Submitted by:
N/A, 20030826
---
Comment on Incident

He was the crewchief of a CH-46D engaged in attempting to extract the crew of a crashed CH-46 which was shot down while attempting to insert Civilian Irregular Defense Troops west of Thong Duc. He received fatal wounds from enemy small-arms fire.

Submitted by:
N/A, 20030818
---
HMM-262 After Action Report - 6 March 1970
Mission #73 Recon 1R7
1stMarDiv

Crew:
CB-16 ET-16
Fleischer - HAC
Kosinski - Copilot
Radish - Crew Chief
Lindsey - Gunner
Billenbacher - Gunner

Crew:
CB-20 ET-17
Beck - HAC
Driskill - Copilot
Wilson, J. - Crew Chief
Rudersdorf - Gunner
Carroll - Gunner

Takeoff: 0705
Landing: 0840



Submitted by:
N/A, 20030826
---