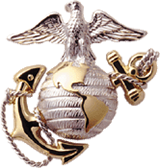 Incident Date 19700327 HMH-463 CH-53D 156662+ - Hostile Fire
[CREW]
Little, Norman Earl Cpl Crew Chief HMH-463 MAG-16 1970-03-27 (vvm 12W:049)

---
LITTLE NORMAN EARL : 464748O98 : USMC : CPL : E4 : 6113 : 22 : SAN ANGELO: TX: 19700327: hostile, ground (in LZ), small arms : body recovered : Quang Nam (Da Nang) : 02 : 19480203 : Cauc : Protestant/single : 12W : 049
---
Personal Narrative
Cpl. Norman E. Little CH-53D crew chief HMH-463 - shot in head in a Landing Zone by a sniper - listed incorrectly as a Ground Casualty.
Submitted by:
Steve Culver, fellow CrewChief HMH-463, 20030818
---
Family Information
Photo of Normal Little courtesy of Chuck E. Morris, St. Louis, Mo and the Permian Basin Vietnam Veteran's Memorial.
Submitted by:
webmaster@popasmoke.com, webmaster, 20051126
---
Personal Comments
I knew Norman in Odessa, TX when we went to Odessa High School. I went into the Corps in '65. I remember Norman telling me "why do you want to be a Marine". He proceeded to tell me, as I remember, that his father was a Marine and it was not a big deal. I felt later that he was just venting his emotions at that time . I know that he realized he was going to be a Marine. I was home from Vietnam and attended his memorial service. I remember his brothers; one a Marine sergeant and the other an Air Force sergeant. I still think of Norman a lot and remember he was always full of life and was quite the ladies man. He would walk up to a lone girl driving around the drive in and within a minute of talking to her he would be in the drivers seat of her car and they were gone. I will always think of Norman as a high school kid, as I knew him. I wish I could have served with him during our time in the Marines. Semper Fidelis.
Submitted by:
terry k sublett cpl usmc hmm-362 1967-68, high school friend, 20110724
---