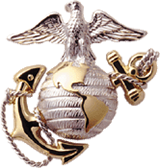 Incident Date 19700601 HMM-262 CH-46D 154797+ / ET-5 - Booby Trap in Zone, Crash and Burn
[CREW]
Fitzgerald, Robert Michael Maj Pilot HMM-262 MAG-16 1970-06-01 (vvm 10W:130)

---
FITZGERALD ROBERT MICHAEL : 051289128 : USMC : MAJ : O4 : 7562 (H-46) :34 : YONKERS : NY : 19700601 : hostile, crash, land : AircraftCommander : body recovered : Quang Nam :12 : 19360103 : Cauc : Catholic/married : 10W : 130
---
HMM-262 Command Chronology - June 1970
1 June 1970 - While on an Emergency Extract of a [1st] Division Recon Team, a team member stepped on a booby trap as he approached the aircraft. The resulting explosion severely damaged the aircraft causing it to crash in the zone. The aircraft commander was fatally injured and other crew members sustained minor injuries.
Submitted by:
Alan H Barbour, Historian, USMC/Vietnam Helicopter Association, 20030826
---
HMM-262 After Action Report
Mission # 73 - Recon - 1R7

Crew:
Event CB-7 - Modex ET-2:
Maj Fitzgerald - Pilot
Kosinski - Copilot
Pipra? - Crew Chief
Benton - Gunner
Delaughter - Gunner

Crew:
Event CB-21 - Modex ET-5:
Driskill - Pilot
Hanner - Copilot
Hettenbauser - Crew Chief
Cornwell - Gunner
Starr - Gunner

Takeoff: 0700
Landing: 1225

Zone of impact: ZC190560

/s/ M. J. Wood
Submitted by:
Alan H Barbour, Historian, USMC/Vietnam Helicopter Association, 20030826
---
Personal Narrative
On May 31, 1970 my recon team went out on patrol. I was not on patrol with my team that day due to an appointment. The team had a heavy engagement during the night with the Viet Cong. Cpl Roe Hopson took my position as Team Leader.

On June 1st, I was asked to take the mail bag up to our observation post located on Hill 200. I was on board Major Fitzgerald's helicopter that day. All Major Fitzgerald and his crew was suppose to do was drop me off for a few minutes so I could deliver the mail. As I was dropped off and heading up to the top of the observation post, Major Fitzgerald and his crew were alerted about an emergency extraction across the river on Charley Ridge to get Roe and the team. When I noticed the Major and his crew starting to take off I yelled to him that I was suppose to depart with him. He yelled back that he would be right back and waved to me with a thumbs up. I waved back with acknowledgment.

Then I ran to the top of the hill and talked with the radioman from Recon. That is when he told me that Major Fitzgerald was flying over to extract my team. As we were listening on the radio and I was looking over to the team's location, which seemed within a stones throw, all of a sudden I saw heavy smoke. I looked over to the radioman who I believe was Cpl Dana Zuber and asked him what was happening. He just looked at me.

Editor Comments:
Sgt Roe Hopson Jr, Team Leader of the Recon Team, was also KIA in this incident from multiple fragmentation wounds from the booby trap which exploded as he approached the LZ. The booby trap explosion caused the HMM-262 emergency extraction helicopter to crash and burn in the zone, killing the pilot and wounding the remaining crew (mostly burns).
Submitted by:
Bruce E. Fogarty, Team Leader of the Recon Team being extracted., 20061226
---
Information Update
I clearly recall the day Major Fitz perished. However, I was not a crewmember on ET 5 as mentioned in the narrative. I suppose the After Action Report will correctly show who the crew on ET 5 was.
Submitted by:
Pete Hanner, HMM 262 Squadron Pilot, 20160412
---
Personal Narrative
I believe the HAC and copilot on ET5 were (Terry) Driskill and (Pete) Hanner. Those are the only names which come close to the pilots in the squadron at the time.


Submitted by:
Walter W. Gustin, AdminOfficer, HMM-262, 69-70, 20030908
---
Personal Narrative
My recollection is that 1st Lt J.L. Kosinsky was the co-pilot on this ill fated flight. I recall him telling me of his difficulty exiting the burning craft. I was also informed that Maj. Fitzgerald's body was consumed in the fire, but I don't know if remains were recovered.
Submitted by:
Mercer L. McClure, MD, Flight Surgeon, HMM-262, 1969-1970, 20040610
---
The Virtual Wall - Major Bob Fitzgerald
Major Robert Michael Fitzgerald


PERSONAL DATA
Home of Record: Yonkers, NY
Date of birth: 01/03/1936

MILITARY DATA
Service: United States Marine Corps
Grade at loss: O4
Rank: Major
ID No: 051289128
MOS: 7562: PILOT HMH/M/L/A (I)
Length Service: 12
Unit: HMM-262, MAG-16, 1ST MAW, III MAF

CASUALTY DATA
Start Tour: 01/11/1970
Incident Date: 06/01/1970
Casualty Date: 06/01/1970
Age at Loss: 34
Location: , South Vietnam
Remains: Body recovered
Casualty Type: Hostile, died outright
Casualty Reason: Helicopter - Pilot
Casualty Detail: Air loss or crash over land

URL: www.VirtualWall.org/df/FitzgeraldRM01a.htm

ON THE WALL Panel 10W Line 130


Source:
www.VirtualWall.org/df/FitzgeraldRM01a.htm
Submitted by:
Alan H Barbour, Researcher, Historian, USMC Combat Helicopter Association, 20110104
---
The Virtual Wall - SGT Roe Hopson
Roe Hopson Jr
Sergeant

PERSONAL DATA
Home of Record: Milo, KY
Date of birth: 12/25/1948

MILITARY DATA
Service: United States Marine Corps
Grade at loss: E5
Rank: Sergeant
ID No: 403709378
MOS: 0311: RIFLEMAN
Length Service: 02
Unit: B CO, 1ST RECON BN, 1ST MARDIV, III MAF

CASUALTY DATA
Start Tour: 07/11/1969
Incident Date: 06/01/1970
Casualty Date: 06/01/1970
Age at Loss: 21
Location: , South Vietnam
Remains: Body recovered
Casualty Type: Hostile, died outright
Casualty Reason: Ground casualty
Casualty Detail: Multiple fragmentation wounds

URL: www.VirtualWall.org/dh/HopsonRx01a.htm

ON THE WALL Panel 10W Line 130


Source:
www.VirtualWall.org/dh/HopsonRx01a.htm
Submitted by:
Alan H Barbour, Researcher, Historian, USMC Combat Helicopter Association, 20110104
---
Maj Robert Michael Fitzgerald
http://www.hmm-262vietnam.org/Wall/fitzgerald.htm


Submitted by:
N/A, 20050302
---