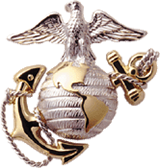 Incident Date 19700604 HMM-262 CH-46D 153403+ / ET-18 - Hostile Fire, Crash
[CREW]
Wilson, Harry Truman Sgt Crew Chief HMM-262 MAG-16 1970-06-04 (vvm 09W:011)

---
WILSON HARRY TRUMAN : 463781394 : USMC : SGT : E5 : 6132 : 21 : GRAND PRAIRIE : TX : 19700604 : hostile, crash, land : Crew : body NOT recovered : Laos : LZ : 02 : 19490117 : Cauc : Protestant/single : 09W : 011
---
HMM-262 Command Chronology - June 1970
While on a Recon Team extract the pickup aircraft received heavy automatic weapons fire and crashed in the zone. The crew chief received fatal injuries, the aircraft commander major injuries and the rest of the crew minor injuries.
Submitted by:
N/A, 20030826
---
HMM-262 After Action Report - 4 June 1970
Mission # 72 - 24th Corps (CLASSIFIED)

Event CB-3 ET-18
Maj Lawson - Pilot
Johnson - Copilot
Wilson - Crew Chief
Delp - Gunner

Event CB-1 ET-13

Bothrette? - Pilot
Connell - Copilot
Seaworth - Crew Chief
Nelly? - Gunner

Takeoff: 0705
Landing: 1750

Accompanied by 2 H53's and 4 cobras.

Coordinates: Classified
Submitted by:
N/A, 20030826
---
Comment on Incident
He died on June 4, 1970 in Laos. He was the crewchief of CH-46D buno 153403 which took heavy fire while on a recon extract and crashed in the landing zone. He died in the crash. His body was not recovered. His aircraft commander had major injuries, and the other crewmen all had minor injuries.
Submitted by:
N/A, 20030818
---
LOSS COORDINATES
LOSS COORDINATES: North 15 48 52 / East 107 06 10 - LAOS
Submitted by:
N/A, 20030818
---
Sgt Harry Truman Wilson
http://www.hmm-262vietnam.org/Wall/wilsonht.htm



Submitted by:
POPASMOKE Admin, 20050302
---