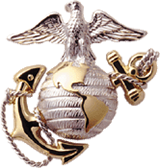 Incident Date 19701026 HMH-463 CH-53D 156670+ - Died during rescue attempt
[CREW]
Goebel, Thomas Anthony Sgt Crew Chief HMH-463 MAG-16 1970-10-26 (vvm 06W:023)

---
GOEBEL THOMAS ANTHONY : 338365460 : USMC : SGT : E5 : 6113 : 22 : ROCKFORD : IL : 19701026 : Air Loss Crash Land : Crew : body recovered : Quang Nam : 03 : 19480808 : Cauc : RomanCatholic/single : 06W : 023
---
Personal Narrative
Wayne Campbell was the HAC (Helicopter Aircraft Commander). Gene Baker was the copilot. "George" Goebel was the Crew Chief. The helicopter had been grounded in Da Nang for maintenance action after being shot up on a mission. Wayne was the squadron maintenance test pilot assigned to fly the aircraft back from Da Nang. At 200 feet altitude, the aircraft went nose down, hard right, and crashed. All aboard survived the crash. Immediately after the crash, Goebel went back to the aircraft to get the pilot out, and was killed in the process of the rescue. All other crewmembers survived.
Submitted by:
Wayne Campbell, HMH-463 pilot on mission, 20030818
---
Personal Narrative
I was the co-pilot on this flight. Goebel was killed as he returned to help the pilot (Wayne Campbell) from the aircraft. He was instrumental in directing the other passengers to an escape path from the aircraft. Goebel was posthumously awarded the Navy and Marine Corps Medal for his actions.
Submitted by:
Gene Baker, HMH-463 copilot on mission, 20030818
---