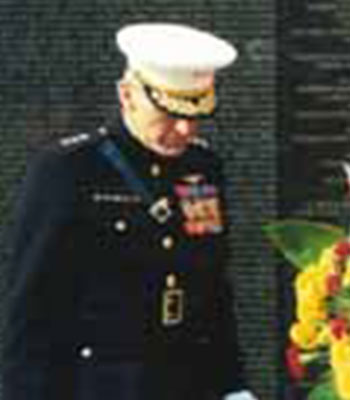 Over the years, as Historian for the original USMC/Vietnam Helicopter Association, I was answering inquiries for family members who were looking for their dads, brothers, husbands and friends who had been lost in training or in the Vietnam War.
After researching each case, I asked myself why - what was my reason - for wanting to put these individual puzzles together. I came up with two significant reasons:
The families wanted to know and I knew where to go and had access to the information. There was a mountain that had to be climbed.
An individual who gave his life in the Marines, Navy or associated services could never be discarded as a person from the past. After all, the streets of Heaven are guarded by United States Marines (and our Corpsmen). He had offered his entire being for his mission. I would recognize that mission as a part of the overall effort in which we were all engaged, whether in training or on active duty.

I therefore decided that I would represent each of the individuals who had no one seeking information about them by compiling information on all men killed in action in or near our USMC helicopter war from 1962 to 1975.
My project intensified. I noticed the number of single young men that would possibly be forgotten by all but their closest relatives. Some were too young or too new within their units to even be known by their buddies. Some were already parents and had left a legacy at home.

I envisioned the H-46 from HMM-263 carrying thirteen young men, the best of our youth, to their deaths. The oldest was twenty-one --- the youngest nineteen. I envisioned fathers like Frank Wilson of HMM-161 who died before his little girl could really get to know him. Someone had to ferret out the information so that families could understand what happened and why that life was sacrificed.

The United States Marine Corps fought the good fight with which they were entrusted. The reasons for the war may have since come into question, but the valor of the Marine aircrews and the ever-present Navy corpsmen was continuously evident. Only God understands this sacrifice. It is beyond logic for us to explain war and its sacrifices, but it is logical that we be prepared for war.

This work presents the men who died while associated with the helicopter and fixed wing units of Marine Air Group Sixteen (MAG-16), Marine Air Group Thirty-six (MAG-36), Provisional Marine Air Group Thirty-nine (ProvMag-39), and Marine Air Group Eleven (MAG-11), which absorbed some of the fixed wing components from the Helicopter MAGs toward the end of the war, as well as ongoing Marine Expeditionary Forces in later conflicts. It also includes earlier losses from the Korean War.

The actions, dates and operations may have changed, but families continue to lose members training and fighting for the freedom of countries around the world under the title United States Marine or United States Navy. The USMC Combat Helicopter Association has expanded the KIA section to commemorate the Marine helicopter crews and passengers that have been lost during Operation Desert Storm, Operation Iraqi Freedom and Operation Enduring Freedom - may these men and their families rest in peace, knowing that none of these brothers will ever be forgotten.