Incoming mail from members and visitors
---
To all those pilots, helicopters crews, there are no words to explain how we felt on the ground! I served with 1st Recon Bn. 1970-71. More than once did helicopters and gun ships come to our rescue! Being surrounded about to be over run, you guys were like the hand of God. On June 14,1970 our Recon team had walked into an ambush, and it was bad! Real bad! No where to run. We had dead NVA all over. 3 of us were wounded, I was out of ammo. I thought it was all over. We had 2 cobras circling us, when all of a sudden a 46 tries to land, about 50 ft away from us. We tried to make it but by the time we got there the 46 had taken several hit and had to take off. Now I'm thinking about pulling the pin on my last  frag and just lay on it. I know that sounds crazy but I wasn't gonna let them take me alive. 3 machine guns had us pinned down. Just about that time that 46 tries another attempt to pick us up. His nose was hanging over a river but he set his tail down and we all scrambled on. It was a miracle that we got out. If it hadn't been for all those pilots and crews I wouldn't be here. All I can say is THANKS with all my heart. You guys looked like angles from heaven to us on the ground!
~Robert Grace
---
If I live to be a hundred years old, I will never forget how the helicopter crew personnel on various choppers "saved my butt" on many occasions during my tour of duty in Vietnam. Loyde P. Snake Arender 
---
Greetings Brothers, Just found this website and figured it was time to take care of some unfinished business. I served with D 1/4 during my tour in '69. I went over a grunt (0311) ended up FAC/ RTO (3025) after about 45 days in country. I wish to thank all the crews that supported us; thanks for the chow, the water, the medevacs and last but not least…the mail! Undoubtedly some of you guys were on the other end of my radio conversations and Im glad to see you have maintained some type of commo to this day. I wish you all the best 'til we meet again. Hopefully I'll make it down to Reno during your reunion for some face to face thanks.
Your Brother in Arms,
LCpl Joe 'Jody' Caldarulo, D 1/4 3rd Mar Div RVN 1969
---
Dear Marines:
I'm truly think, you all are heroes, you are the best and you are all in my prayers every day.
Thank you, Pia from Italy
---
A very warm note of thanks for all you guys did for those of us on the ground|Just found the website. A very warm note of thanks for all you guys did for those of us on the ground. I served with 1st Mar Div 67-68. Worked many recon inserts and accompanied 27th Marines on several field ops. That wop-wop was a welcome sound. I hope you all know just how how grateful we all are. Thomas Page, 1st MarDiv, '67-'68
---
Your website, and the love and memories of your members who responded to my query on AVS for information on my first husband, Lt. Kenneth Bruce Kohei Kozai (KIA 29 November 1969) have blessed a number of lives. Ken's son was able to attend the 2000 Pop A Smoke reunion in San Diego; Ken's dad, Tom Heard, received a beautiful photo of Ken from John Dullighan (Tom is now buried with Kenny and Mother at Arlington); and your site made it possible for me to put Ken's cousin Setsuko in touch with his squadron mates. For all that you did, in conflict and peace; and for all that you continue to do to help heal families and friends by providing a place to find each other and share memories, I pray the Lord blesses each of you.
Vaya con Dios.
Kathleen Phillips Hellman (formerly Kozai)
---
Best website I've seen on Vietnam; to date this is the best website I've seen on Vietnam. It has a little bit of everything. I served as a Navy Dental Corpsman with the Marines Feb '70 – Feb '71, first at LZ Baldy (7th Marines), then Chu Lai (MAG-13) and finally 1st Med Batallion-DaNang. I would gladly do it again! Keep up the good work you are doing! Ralph B. Zeiders
---
Your guys came to our aid countless times; My Stepson, now a Marine Gunny down at NAS, Fort Worth, alerted me to your fine site and I took an enjoyable tour of it today. Was the CO of B Company, 7th Engineers operating south of Danang in 66/67 and your guys came to our aid countless times. Many thanks and Semper Fidelis.
LtCol. J. Richard Phaneuf, USMC (Ret.), Port Hueneme, CA
---
Thank you for all that you guys did for us grunts; Fellow Marines, I served in Vietnam from June 1968 to June 1969. I was with a line company Charlie 1/4, 3rd Marine Division. Our unit was most of the time at LZ Vandergrift. I just want to thank you for all that you guys did for us grunts. Many lives were saved due to your bravery and commitment during the time of the Vietnam war. During one operation near the DMZ in March of 1969 at a place called LZ Mack (Hill 484), a resupply helo a C 46 went down due to NVA fire. It was forced to make an emergency landing atop the hill. Our company which at the time was engaged with the NVA on both Hill 484 and 400 sent over a squad to secure the helo and make the LZ safe for the crews extraction. We later called the hill, where the downed chopper was, "Helicopter Hill". I remember finding one the crew members under the chopper, he wasn't moving till we told him , "hey we are friendly and your going to be ok". Does anyone remember such an event ? I hope that the crew that was rescued that day made it home. Again thanks for all you guys did for the "grunts".
Semper fi, Gilbert Martinez
---
Was a Marine Doc Jan. 1954 to Jun. 1955. Don't know about Marine Helicopters but admire what they have done and do. Was amphib out of Lejuene but always knew we had our helicopter guys out there. A good feeling. Thank you for what you have don in the past and the future. May God bless you all.
Bobby Seale, HM2, FMF Corpsman
---
Returning the sword; Thanks to Popasmoke I have finally been able to locate a former Marine helo pilot of our vintage and return his sword to him after 36 years. He didn't know it was coming and it really made his day. All your work is greatly appreciated even if we don't normally take the time to tell you.
George O'Connell
---
Thanks for helping me locate survivors; I want to thank Pop-a-Smoke for helping me locate one of the 2 survivors of the crash of YT-14 the night of 29 APRIL 75 during OPERATION FREQUENT WIND. I was a doc with BLT 1/9 aboard the USS HANCOCK and was one of the first docs on board the resuce 46 to take them down to sickbay. Took only ONE DAY after posting my message to get a reply from Cpl. Steve Wills, the door gunner!!! Unbelievable!!! I've been waiting nearly 27 YEARS to talk (e-mail) with him!!! Can't tell you how grateful I am to your assoc.!!!
Bruce "Doc" Collison
---
Thanks for the ride; Great website guys. My name is Mike Vassallo I was with BLT 1/3 in '67, and BLT 2/4 in '68. I'm sure I flew with some of you marines. Lots of good and bad memories. I guess we all had our hands full. God bless you all. Thanks for the ride. Semper Fi.
Mike Vassallo
---
Great site and wonderful photo's; I lived at the Grand Hotel and worked in a Aussie showband and Docs photo's brought back memories. Many time our group used Marine Helicopters to get into areas where we preformed for the troops, also used "Blackcats over at Marble Mtn. Great site and wonderful photo's
John Manley, Downunder
---
Outstanding website! The last time that I visited the Freedom Hill exchange was in November of 1970, as my unit completed the bleachers for the upcoming Bob Hope Christmas Show. I was a Seabee with NMCB Three that was headquartered down the road at Camp Haskins, south. Shortly after leaving, my det was assigned to the London Bridge job site at Hill 37 with the 3/1 Marines. We would go on to other jobs throughout the I Corps. I retired six years ago. Throughout my career, I had the privledge of working with many Marine units both overseas and at home. I spent a lot of time at Camp Pendelton both as a trainee and as a military training instructor for the units that I served with. I just want to say that here's one Seabee that has enormous respect and admiration for the Corps, it's members, and for the job that they do, both past and present.
Thanks again!
BU1 Samuel Meador USNR(ret.)
---
I am the son of a Marine Corps medevac pilot, Frank W. 'Bill" Turek, and a police officer in Texas. I've come to understand over the years what the two words "thank you" truly mean. I know this is many years late, but THANK YOU ! I've enjoyed seeing the photo's from Vietnam and talking to my daughter about what "granddaddy" did. I hope your association continues for many years so my grandchildren can see what price was paid for them. Once again Thank You to everyone and also to those of you that paid the ultimate price for "freedom"
Sincerely, Michael Turek
---
Thanks to all you chopper crews! Nice web site. I popped a few grapes and yellows and reds in my time. I was an 0331 with a Marine Combined Action Platoon in Quang Nam Province, 1970-71, but because we cross-trained, spent time carrying the PRC-25, the M-79 and, for a brief and scary few days, the experimental XM-174 automatic grenade launcher. Called in birds many times, mostly for med-evacs. I myself was med-evaced April 71. Thanks to all you chopper crews, who never let my small and exposed team down…and who came in even through ground fire. Even to this day, when I hear that deep rotor thump of a Huey, I stop what I'm doing, look up and try to catch a glimpse through the trees. It's a great sound. It means help and hope. I bet every former ground-pounder feels that way.
Semper Fi
Al Ryan, CAP 2-7-18, CAP 2-7-6, 2nd CAG, III MAF, 70-71
---
Hi Guys, Found your site by chance and really enjoyed the visit and the memories as I served in USAF blue vs. Marine green at VVSD as an air traffic controller at Da Nang Approach Control & GCA. Spoke to many in the "HM" community on the radio – usually when the weather went to shit and someone needed a vector to a safer haven. So I guess I was sort of a support type. We (USAF ATC) actually were under the MAW boss at Da Nang for operational matters. Even bumbed a ride in an H-34 one day in August '66 =- proving I did not have a lick of good sense.
Mike O'Rourke, Da Nang GCA, 3/66-3/67
---
Once again, a big THANK YOU to you all; Jim Marsh, USMC E-4 working with the "Blue Dragons" (ROK) around Hoi AN Medevaced 17 July 70. Had about 2 wks. left in country. As a radioman, I called many a vac and was never let down. As a rule I always thanked the crew on its way back. Once again, a big THANK YOU to you all. Semper Fi,
James Marsh, HMM-162
---
Hi Guys, Went to my first reunion [Reunion 2000, San Diego] last weekend. Thank you for all the hard work you have done and thank you for "Popasmoke". God you don't know how great it was to see my Brothers after 35 years. Going home on Sunday was almost like going home to the "World" in 65. Again Thanks – I won't miss 02 for all the world.
Kenny Bretsch, HMM-162
---
Thanks for my life! Found your page while surfing through some RVN VET pages and realized I've never said thanks. Not that I would know who to thank. I was medevaced from Operation Worth/Pit on March 1968 (worst St. Patrick's day of my life) and couldn't see much without my glasses. All I really remember is a CH-46 for a private ride to the NSA DaNang Hospital. Whoever you are, wherever you are, I wouldn't be here without you. Thanks for my life!!!!
JJ Short, CPL, H&S 2/7/1 67-68
---
Popasmoke can duly be proud; Over the past year or so, I have received emails from the relatives of 5 or 6 of our KIA brothers, thanking me for helping them come to a greater degree of closure from the loss of a loved one in Vietnam. I tell them anything I can about our Brother depending on how well I knew him, what I knew of the incident in which he died, pass them along to others in our squadron who knew him, or simply put them in contact with men in other squadrons who knew their departed Father-Husband-Brother-Cousin-Friend, etc. I have laughed, cried and had more than enough to drink with some of these realtives and I have witnessed several of our members doing the same. I know that the relatives of at least 4 of our KIA Brothers will be attending the Popasmoke Reunion this year. What a wonderful and humbling feeling it is to be able to contribute, in some small way, to relieve some of that horrible pain. If we accomplish nothing else but this, Popasmoke can duly be proud of its existance.
Joseph "Jake" Jacobs, HMM-262 '66-'67
---
Got to fly in a restored UH34-D; Found popasmoke 2 months ago and since then have made contact with many old buddies. Found more that were not listed and told them about popasmoke. The best part, was HMM-362s mini reunion in Tulsa, actually got to fly in a restored UH34-D that was in our squadron. If not for popasmoke I would never have found these guys. You always wonder if anybody remembered you or what you did, for me that question has been answered. THANKS,
Don Lockwood (Woody), HMM-263 EG-19 Gunner, HMM-362 YL-35 Crew Chief
---
I would not be here now if not for you; I was cruising thru here and wanted to let you guys know I would not be here now if not for you. I never knew your names, can maybe remember your call signs if you refreshed my memory. I rode the ladder and SPIE rig to have my butt extracted out of the jungles of An Hoa and DaNang with the 1st Force Recon Co. in 68 and 69. (Musk Ox or Paddle Boat)
Semper Fi
Bob Stockham, Radio operator 1st Force, 5th Platoon 68-69, RVN, Bstockm@aol.com
---
What a great Web Site! I am a Marine on active duty serving on I-I staff with HMH-769 (Reserve CH-53E's). I found your site while searching for some pictures of 53's. The great art and pictures caught my eye at first but as I read on, I learned so much of the history that I had only glimpsed at hanging on the walls of Hanger 1 in Tustin when I was in HMH-363. I plan on visiting your site often and learning all I can about the history of the CH-53 in Vietnam. I can only hope that we can keep tradition alive.
Semper Fi
SSGT Patrick D. McMaster, macpuckman@aol.com
---
Thank all of you for your sacrafices; I saw the show [Vietnam's Helicopter Heroes] on the Discovery Channel about you guys. It just seemed a little more real to hear about what you went thru from guys that were there. I was in Desert Storm with the 3rd ACR from Ft. Bliss on M-1 Abrams. We did not have a picnic and when I think about it I just try to imagine what you guys went thru and saw. You had it a lot harder than we ever thought about. I just wanted to thank all of you for your sacrafices. THANK YOU!!!!!!!!!
Ricky Brock
---
Welcome Home! I hope that I'm not the first person to say this, but here goes, Welcome Home. I have several friends that are vets, some are pretty solid and some are not the same anymore but I love them like brothers just the same. I also had a few friends that didn't come home alive, and I miss the hell out of them. You fellows did one hell of a job over there and everyone should be proud of you and welcome you guys home. Again, Welcome Home.
Stan Robinson, Jr.
---
I read with interest, the question, "What is 782 Gear?" I live in Las Cruces, New Mexico, and also belong to the Marine Corps League. I thought, if a retired 1stSgt I know does not know, no one knows. He owns an antique store. His answer was, 782 is the number on the form that you had to sign for the 782 Gear. His name is 1stSgt Robert Gaines.
Ron Gall, Las Cruces, NM
---
Where so many of us gave the best; While on vacation with my wife, and in-route from Hong Kong to Bangkok last month (April '99), I noticed that our flight plan would take us right across Danang, V.N. In anticipation, I positioned myself to move back and forth across the aisle of the aircraft (747-400) to see what I could recognize. As we rolled wings level to cross the Danang Tacan I could see Hai Van Pass and up the coast northward toward Phu Bai, and on the other side, all the way south to the Queson Mountains. Clearly visible were the Arizona Territory, Charlie Ridge, the Football, An Hoa and Alligator Lake. Unfortunately, because of our position right above the Tacan, MMAF, NSA, Shitter's Beach, etc. were not visible. It was particularly interesting to note how peaceful and unthreatening the country side looked from FL 350 rather then 1500'. From that altitude, the mountains looked like hills and there was no sign of the violence that thrived there on this, the 30th anniversary year of my service there. I must admit it made me want to go back, – to see again the place where so many of us gave the best that American youth have to offer.
Larry Monserrate, San Diego, CA
---
Thanks for a great web page; Dear Sir, Thanks for a great web page. I didn't serve in Vietnam with you guys, but I am a former Marine who just got out. I read about the reunion involving a visit to 8th & I, I used to be stationed there and was in the parades. I am working on my own web page and yours has really motivated me with a lot of ideas. It seems like you guys have a great band of brothers who served their Country like true Marines. Thanks again and Semper Fi.
Felix Colfer, Student/MIS Department, Central Bible College, Springfield, Missouri
---
From an old Marine Dog Handler;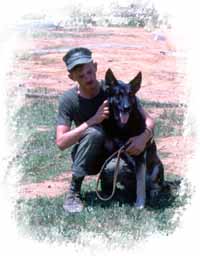 After thirty years I am finally getting a chance to say "THANKS". If it weren't for you guys, I would not be sitting here. You guys were as crazy as we were. So, from an old Marine Dog Handler who always walked point, Thank You from the bottom of my heart.
John Hackett CPL USMC, SARGE 1A43 USMC
---
Deja Vu; Has everyone heard of the phrase "dejavu"? Well, practically all my adult life I thought I knew what it meant. However, the true meaning hit me right square in the face at Reunion '98 in Pensacola. We were gathered in the Squadron Tent catching up on all the years gone by. We were talking about our families and our professions, remembering the goods times and the bad, our friends with whom we are in contact but couldn't make it to the reunion this year, those with whom we've lost contact and, of course, our brothers who didn't make it back. I was standing off to one side, truly enjoying the scene, when a wave of melancholy swept over me. The majority of hair color was turning gray, or at least salt and pepper. Most of the hairlines had receded a bit and most of the waistlines had increased somewhat, there were a few (very few) exceptions. Never the less, there sat 33 men with whom we had shared some of the most wonderful and terrifying times of our lives. As I panned the area I was thunderstruck! When I looked past the graying hair or an additional wrinkle or two, those bright young, awestruck faces were still there. The fire in the eyes may have dimmed a bit, but the spark is truly still there. Here we were once again, "those daring young men in their flying machines" that had flown together in Vietnam so many times over thirty years ago. Dejavu? Nope, not at all, just pure unadulterated delight. This had been my first real encounter with the "Old Tigers" of HMM-262 since Vietnam, 31 years ago. So, when I returned home, my wife cautiously asked if I had enjoyed myself. The huge smile on my face and the moist eyes answered it all, without saying a word.
Semper Fi,
Joe "Jake" Jacobs
HMM-262
---
God bless this website! It is 2040 hrs, 11/13/97, 28 years since I was in-country, and one hour since I found the Pop A Smoke website for the first time. I have requested an "FNG re-enlistment package". On the website I recognized my squadron's H34 with the yellow and black tiger stripes painted over the transmission area. I also saw a letter from Col Mac Tweed. I was with "Tweed's Tigers" in HMM-361 from September 1966 – October 1967. I was a Cpl and worked in Ops for Major Egger. I am overcome with emotion. God bless this website! I will be in Pensacola for the next reunion.
Semper Fi.
Brian Baker
---
Honorary Airwinger; Many thanks for your kind letter and invitation. It's terrific to hear that I have been designated an "Honorary Airwinger" by your organization. After meeting you in Swampscott, MA, during the Armed Forces Day festivities, and now receiving your organization's package, I am encouraged by the invaluable support of the Eagle, Globe, and Anchor at the "grassroots" level. Please accept my apology for not writing sooner; but the job keeps me on the "firing line". I've been out visiting commands for three of the last four weeks, including two of the three active Wings. After reviewing your homepage, your association appears to be a well-honed outfit. I'll check my schedule as your reunion date nears before I confirm attendance. Thanks again for the invitation and that package. Semper Fidelis. All the best.
R.L. Neal
General, U.S. Marine Corps
Assistant Commandant of the Marine Corps
---
A quality spread as usual; Got the newsletter today. A quality spread as usual. You can log me in as in favor of the lifetime membership. I plan on living until November 10, 2025. So I figure a lifetime sign-up will save me money.
Ron "Zack" Zaczek
---
Update on Da Nang; Some may be interested in an update on Da Nang. I visited there in March '96. Tried to get to the old Shu-Fly area where we operated in late '63-'64. It was totally walled in and heavily guarded by the army. The Marble Mountain facility is still standing, although it is unused, run down, and also walled off. Da Nang is a total mess. The visit drove home the fact that communism destroys whatever incentive the individual may have. Really sad! Tom Ross
---
Your refreshing attitude is great; I received your June '96 newsletter from another member, Gary Parker. He was a member of 3rd Shore Party and so was I. We were the HST (Helicopter Support Team). We worked afloat and at Khe Sanh. I ran the LZ on Hill 881 until I was hit. I worked with 34s, 46s, and 53s. So, enclosed are my dues to your fine organization. Your refreshing attitude is great. Now there will be two shore party guys amongst you to show you where the LZ is ! Mike Lee
---
Tarzan and Jane Fonda; One night recently my wife was forcing me to watch "Wheel of Fortune", instead of my preferred show "Bill Nye the Science Guy". One of the puzzles' answers was "Tarzan and Jane Fonda". The host, Pat Sajak said that all he could say was that due to his own service in Vietnam that he was a big Tarzan fan! I about fell out of my chair from laughing so hard. Poor Jane! She still gets no respect…. and rightfully so! Jim "Stigs" Stiger
---
Your last Pop A Smoke (The January 1996 edition) was disgusting, socially incorrect and rudely offensive. Enclosed is my renewal check, please keep up the good work! Semper Fi.
Stan Collins
---
Smiling H-34 Decals; Here's my dues and more. Please send two more smiling H-34 decals. When I traded in my old car the dealer promised a much better deal if I left the sticker on it. But he had been a sailor so I scraped it off. Gunny Sachs
---
Sign me up! Where have I been? Having never heard of your organization until the article in the Sept/Oct '95 issue of Semper Fidelis, I guess I'm one of the few who never got the word. South Carolina is like that. Tom "Magnet Ass" Knowles (FNG)
---
Hot Recon Team Extract; I could not believe my eyes when I saw Mike Leahy's great art work depicting the "Hot Recon Team Extract". I just stared at the picture with memories flooding in that I thought I had buried way down deep somewhere. I stared and cried, but it was all right…..they were cleansing tears. I was leading a five man team northwest of Khe Sanh that got pulled out of a very bad situation by a very brave '34 crew on a cold, foggy, very deadly morning. His call sign was "Yankee Papa" something. I felt compelled to write Mike Leahy and express my appreciation for his work…. Hope you guys had a good time at your reunion. Just a reminder, there are a lot of Grunts out there that owe their lives to you guys. And I mean that in a very literal sense. I know that I and a lot of my people would not have survived in-country if it wasn't for Marine Air. The fast movers were nice to have around when you could get'em, but the chopper drivers and crews were the most valuable asset we had. And they came each and every time that we called them. And many of them gave it everything they had. I still recall in amazement the respect I had for those guys coming in low and slow when we were in the shit. Being on the ground was bad enough. Coming in through that stuff sitting in an aluminum target had to take some huge balls…..or maybe they just did lobotomies on you guys before they sent you over. Anyway, here's to fallen brothers. Marines and brothers for all time. God bless you all. I thank you from the bottom of my heart and I salute you.
We were restricted, and cheated……….but NEVER DEFEATED!
Semper Fi
Mick Carey
---
The best deal… enclosed find my check for $25. Without question this is the best deal year in and year out. I wanted to get my payment in before the deadline cuz I don't want you to publish a limp dick excuse for me being late. I look forward to my first reunion. I will proudly drag my son so he can see for himself the colorful characters we hung out with 25+ years ago. Daryl Riersgard
---
Some things never change; I was returning home from work on one of our airlines and was wearing my "USMC/Vietnam" reunion sweater. The gate agent (a lady in her 50's) asked why it said "Vietnam"? I looked at her in amazement and replied "cause that's where I was". Whereupon she asked if it was recently? So I had to inform her about the war and the 60's! Where do these people hide? She opined that I probably wouldn't be interested in returning as a tourist, to which I assured her was very true. She mentioned that she had recently gone to Saigon on a tour and didn't like it too much. Seems it was hot and muggy, and the street kids stole her purse and a cyclo driver cheated her! I guess some things never change. Doug "Windy" Page
---
I surrender; Fellow rotorheads, you all have been sending me stuff forever. I surrender! Send me the "FNG" kit…..I wasn't a Klondike for nothing.
Bob Purcell
---
Send another copy of the newsletter; Some communist **** destroyed page 8 of my last copy of Pop A Smoke. Could you please send another. Remember, it's us against them, and they are ahead.
John Henry Key
---
See you in Vegas; My wife just started her new job as a rodeo clown and we're waiting to see if she'll be playing Las Vegas…. Oh, it just so happens that she will be at Bally's Hotel June 21-24. We're really glad this worked out for us. Dan Drumm
---
I know, I'm late with my money, but it was the reunion or my 25th wedding anniversary. Wife understands a lot, but she just can't believe I'd choose a bunch of drunken perverts over "old house" tours in Charleston, SC. Boy, you'd think after 25 years of marriage she'd catch on!
Doug Orahood
---
Marble Mountain flight surgeons; I've been looking for an organization like this since the navy reclaimed me. Marble Mountain flight surgeons, circa 1969-70, will be by name, remembered as 'ole doc what's his name'. This we take as a tribute to our refining the boondoggle to an art form, with several of us more creative ones spending more time out of country than in.
However, as a group, we'll be crushed if we're not remembered as the junior officer's advocate, the corpman's buddy, or just as the crazies with the red crossed cracker box/morale wagon (complete with 22+ rotary wing pilots in the back) who knew every round-eyed dolly that was in I Corps as well as every M.P. checkpoint between China Beach, The Stone Elephant, and the NSA hospital.
John "Hooker" Maurer M.D.
---
Must tell my "Jane" story. I was buzzing down Springhill Ave. in Mobile, Alabama (high rent district). I noticed blue flashing lights behind me and I was motioned to pull over and stop. I was only doing 60 in a 35. A young police officer approached and said, "Where did you get that bumper sticker? My dad said he had seen it and wanted one". Fortunately I had a couple of extra stickers in my car, so I offered him one. He then said, "Can I have one too?" I said, "You can't have one unless you put it on your patrol car." He said, "I better not do that, but I would put it on my pick-up." I now have one sticker left and am saving it for the highway patrol between here and Pensacola.
Gene Salter 

---
Thanks for the recent mailing of "Pop A Smoke" and the invitation to join. It's been about two years since "Goodie the Louse" mentioned your organization, but this was the first chance I've had to get an address. Thank God I wasn't requesting close air support or a medevac!
Tony Perez
---
On a recent visit to MCAS Kaneohe, I had the pleasure of visiting the present HMM-364, a '46 squadron I had been a part of in '68-'69. During my stay, I learned that they are still using some of the same airframes that we flew back in 'Nam. A GySgt in charge of the airframes/hydraulics shop told me the following story…
A few years ago they pulled the APU from one of their aircraft only to discover an old beer can patch on the inside of the airframe above the APU area. Further investigation revealed another patch above that one. The beer can was the old metal type that we drank from in-country. Apparently the aircraft had taken a round in this area, and the patches had been there for all these years.
Cliff Hayes
---
Tremendous effort and superb job; I think your newsletter is excellent. It is by far "the best" of many of the Marine newsletters I receive from other Marine associations. I shall never forget the tremendous effort and superb job the young pilots and aircrewmen did while serving in Vietnam. I see many names in the directory that I served with. Thoughts of these fine young Marines bring back memories that I will always treasure.
In 32 years of service and combat in three wars, I never met or knew finer Marines or better Americans than those who served in Vietnam.
Mac Tweed
C.O. HMM-361, 1966-67
---
My sincerest thanks; Appreciate your newsletter, and the fine job you are doing keeping alive the bond between Marine helicopter aircrews that fought together in Vietnam. It has been written that men fight not so much for God, or country, or ideals….but rather for each other. You have to have been there to understand the idea that you didn't fly the emergency medevac into "hot" zones to save the world from communism.
You did it because there were fellow Marines down there that needed your help. The band of brothers that constituted the Marine helicopter community in Vietnam wrote a chapter that will stand with the best exploits from earlier conflicts, and I am extremely proud to have been a part of that group. To you and your crew, my sincerest thanks for helping to keep the memories alive. Al Macaulay
---
Thank you, thank you, thank you and thank you.
1969 1st bravo 1st. recon
---
I am a Corporal with HMM-263 currently deployed to Iraq; I am the ground support equipment chief for the squadron. I heard about the association through a great friend of mine whom I met at our last marine corps birthday ball Cpl. Ron Luks. I am also a 3rd generation Marine in my family and the 5th marine total to serve in the Marine corps. I love the Marine corps and love to meet Marines that were a part of the various squadrons and to learn more about our history. My grandfather Retired as the OPS chief at MAG-29 Msgt. Robert A. Davis and is also a member of the Chosin Few. My father although not a member was an Ordananceman at MAG-26 and is also retired.
Jason R Bryant HMM-263 (REIN) 2003- present
---
Thanks from all these years later .. You flew us in and always came and retrieved us. RVN 1968-1969. So a huge thank you.. I remember Peach Bush as a call sign and Scarface as gunships. I have some pictures at Reasoner HLZ.
Sgt. H.K. Schroeder 0311/ 8652